Too cool for words pretty much sums up of MUCH of London Fashion week, which began last Friday, and ends today! After a brief heat wave here in SF, the arctic breeze is upon us, so gazing upon diaphanous silkens, ruffles squared, and other airy finery is a refreshing disconnect.
The spring creations emanating from London are at once glorious and feminine, inventive by virtue of form and fabrication, with every version of silk and satin imaginable and just the appropriate amount of adornments, AND retro and vintage, encompassing eras gone by.
Buckle up for the thrill ride across the Atlantic!
SIMONE ROCHA: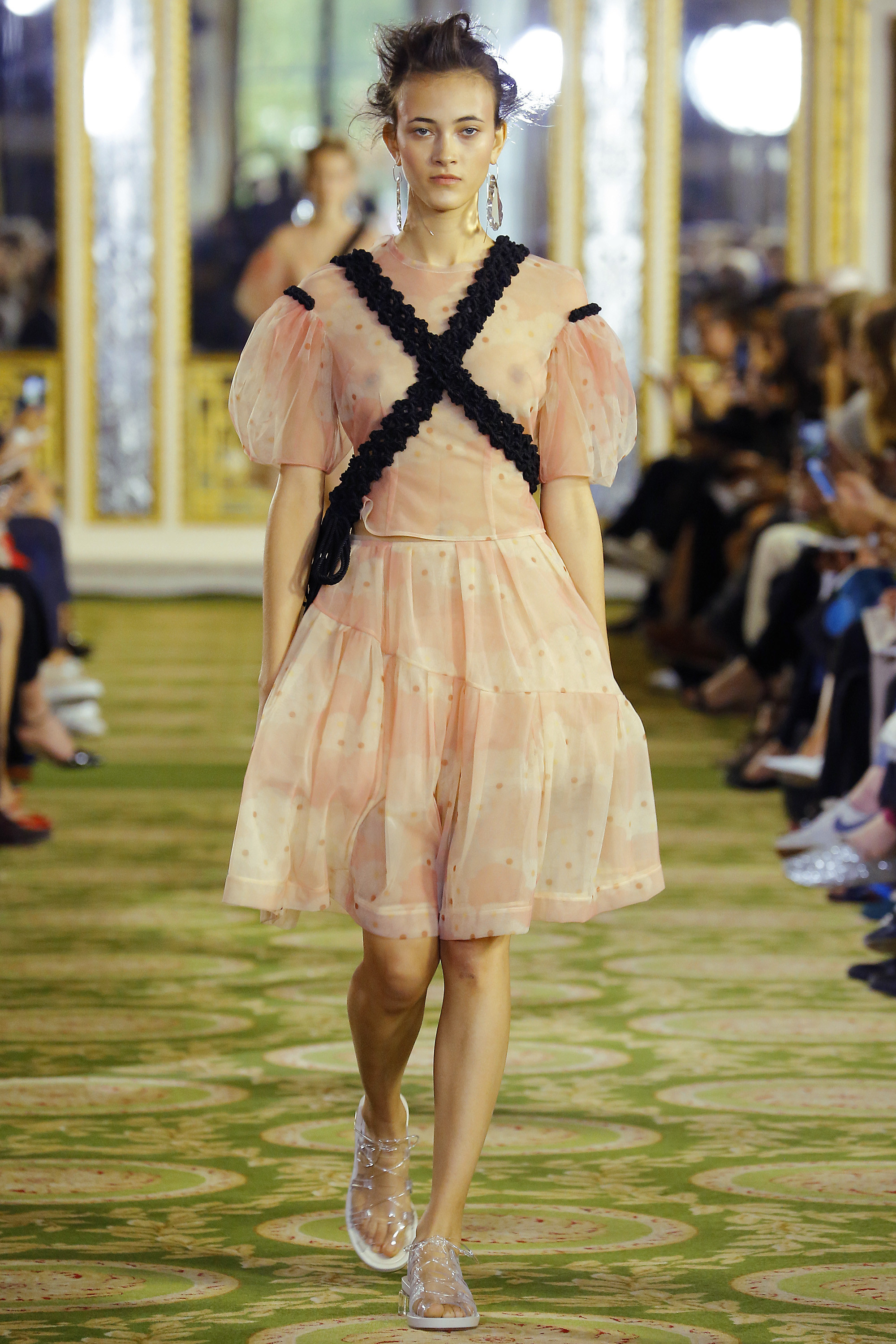 Rocha combines a romantic 16th century sensibility with a saucy salacious factor.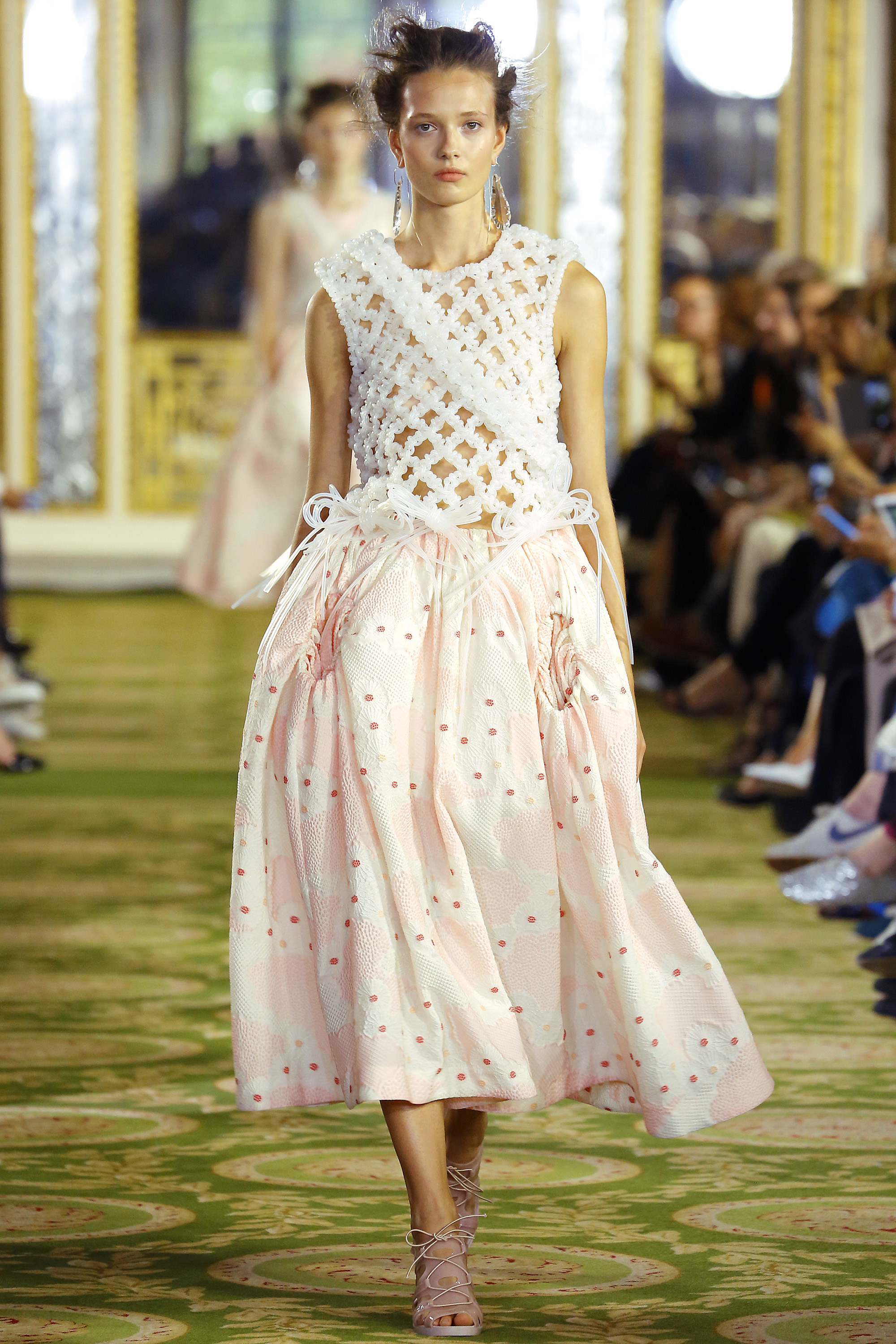 The sweet cloque confectionery skirt is well paired with the barely there macrame bodice. The recurring macrame straps criss crossing the bodices temper the sweet factor of the frocks. Of course any sort of straps conjure thoughts of bondage…..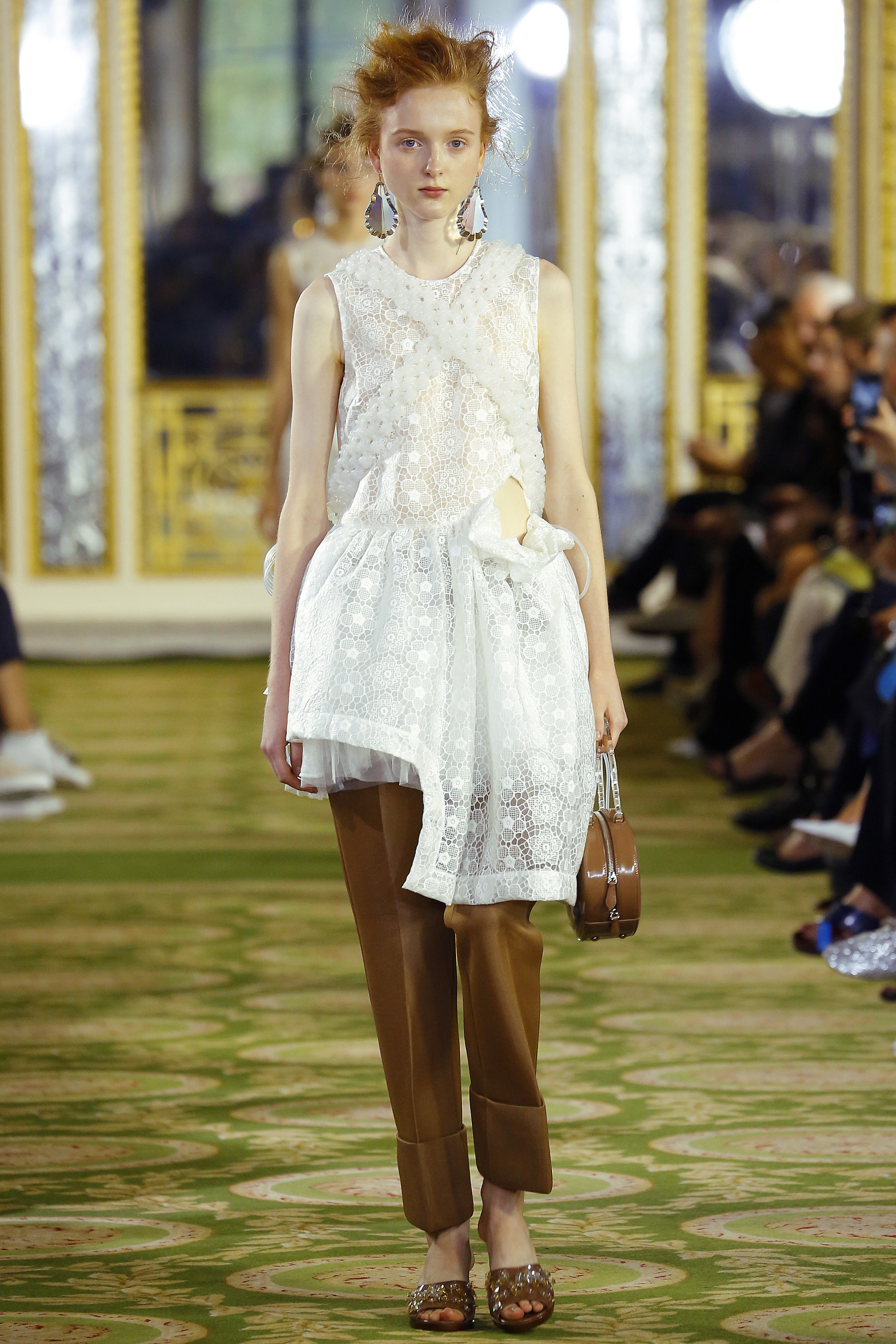 Totally hip and mod, with feminine on top and sleek and cool swathing the legs. And the slim cuffed trousers can be worn with anything from flip flops to stilettos. Everyone should have a pair.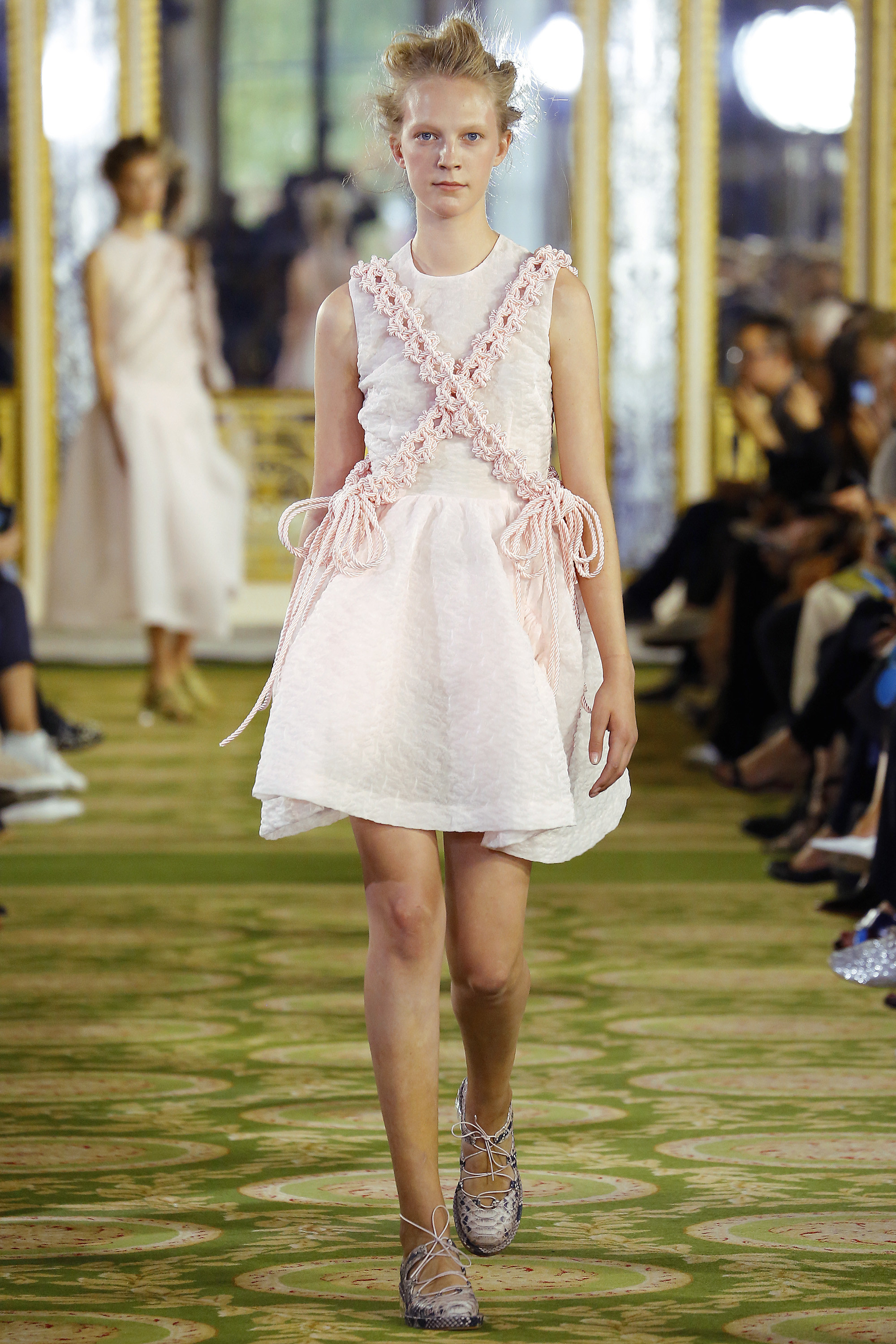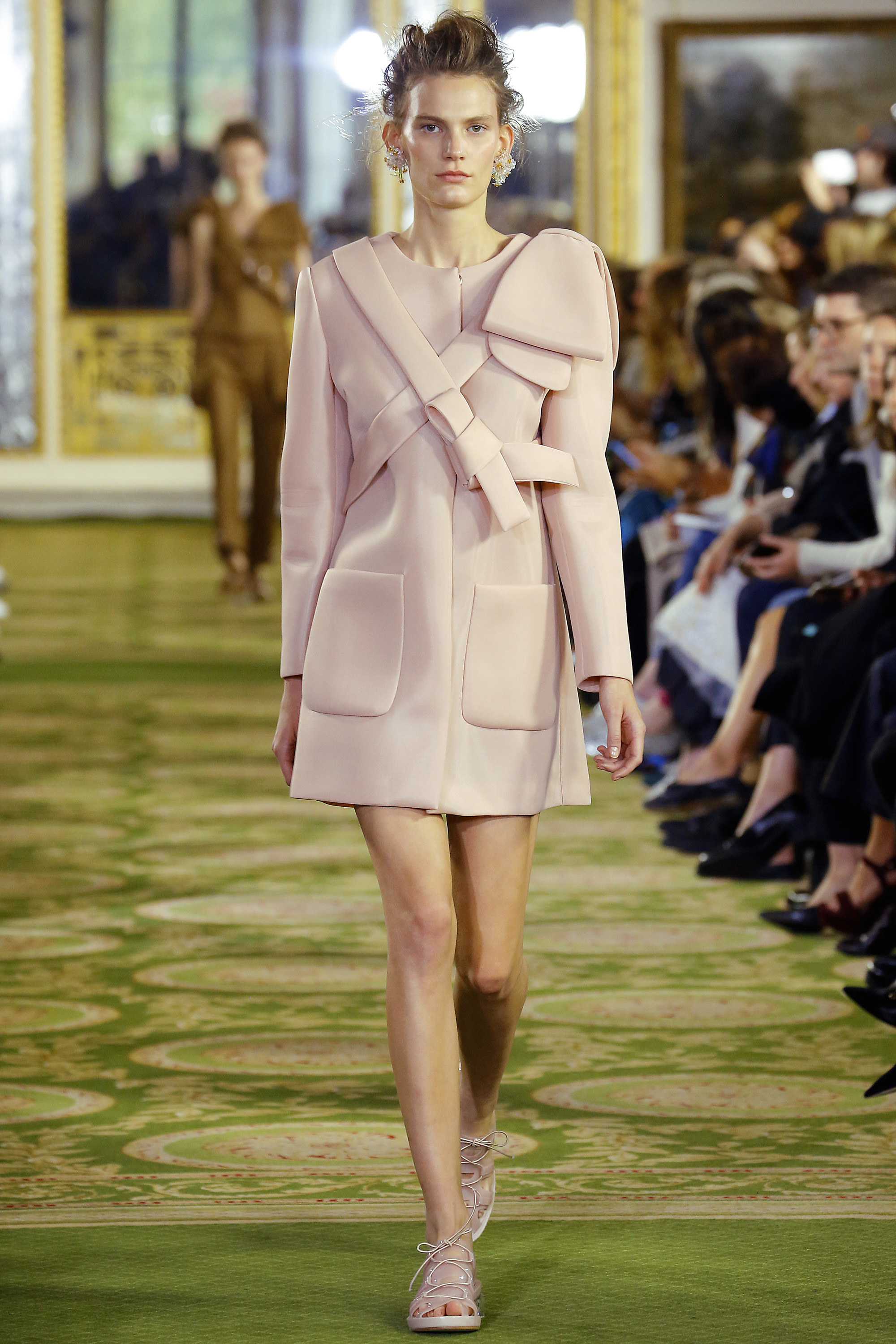 Love the dusty rose pseudo armor. A lot is going on, but it all seems curiously coherent.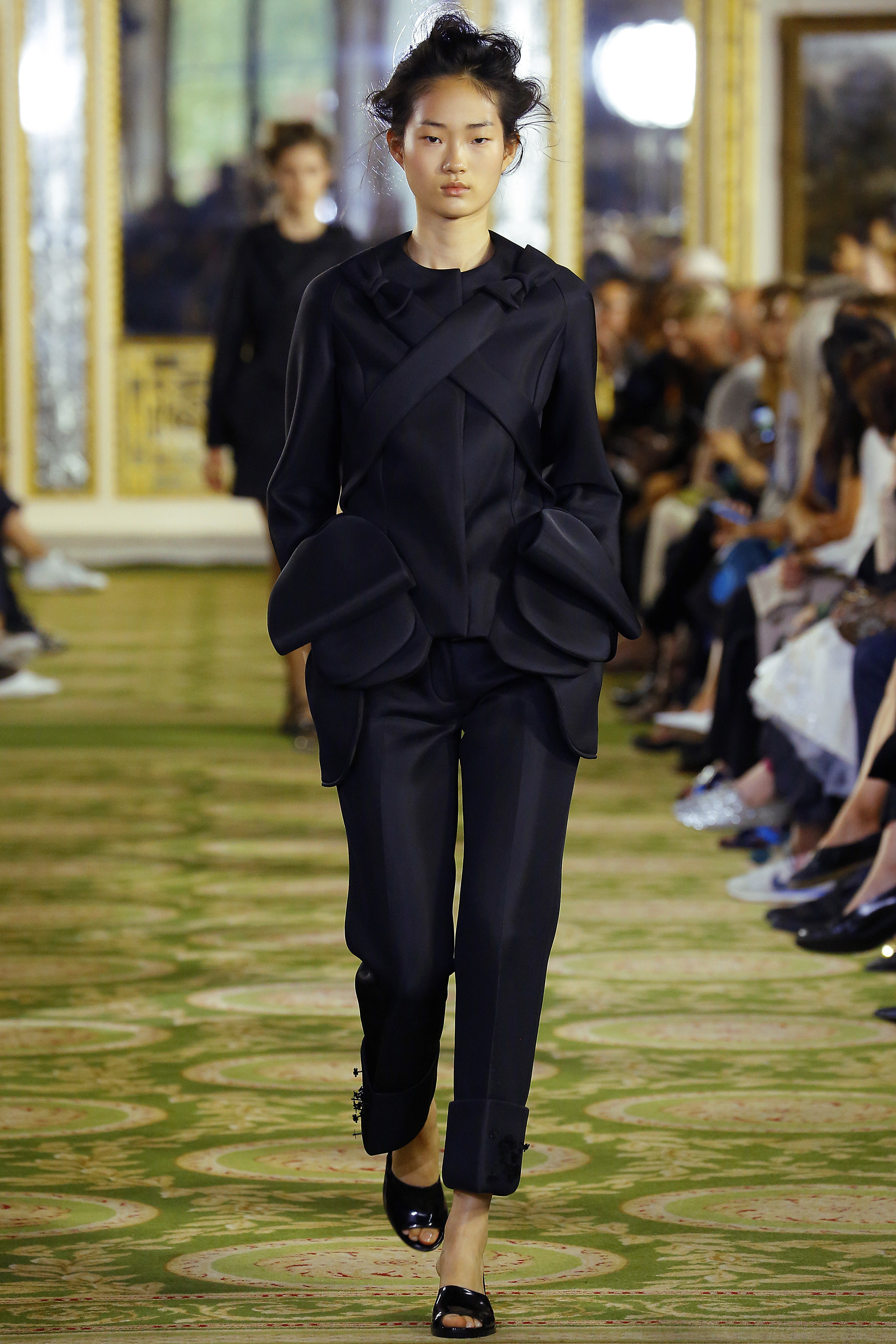 For all of those frightened of pastels. If this is TOO much look, just separate the separates…A red long sleeved T-shirt would compliment the pants. Simple and chic.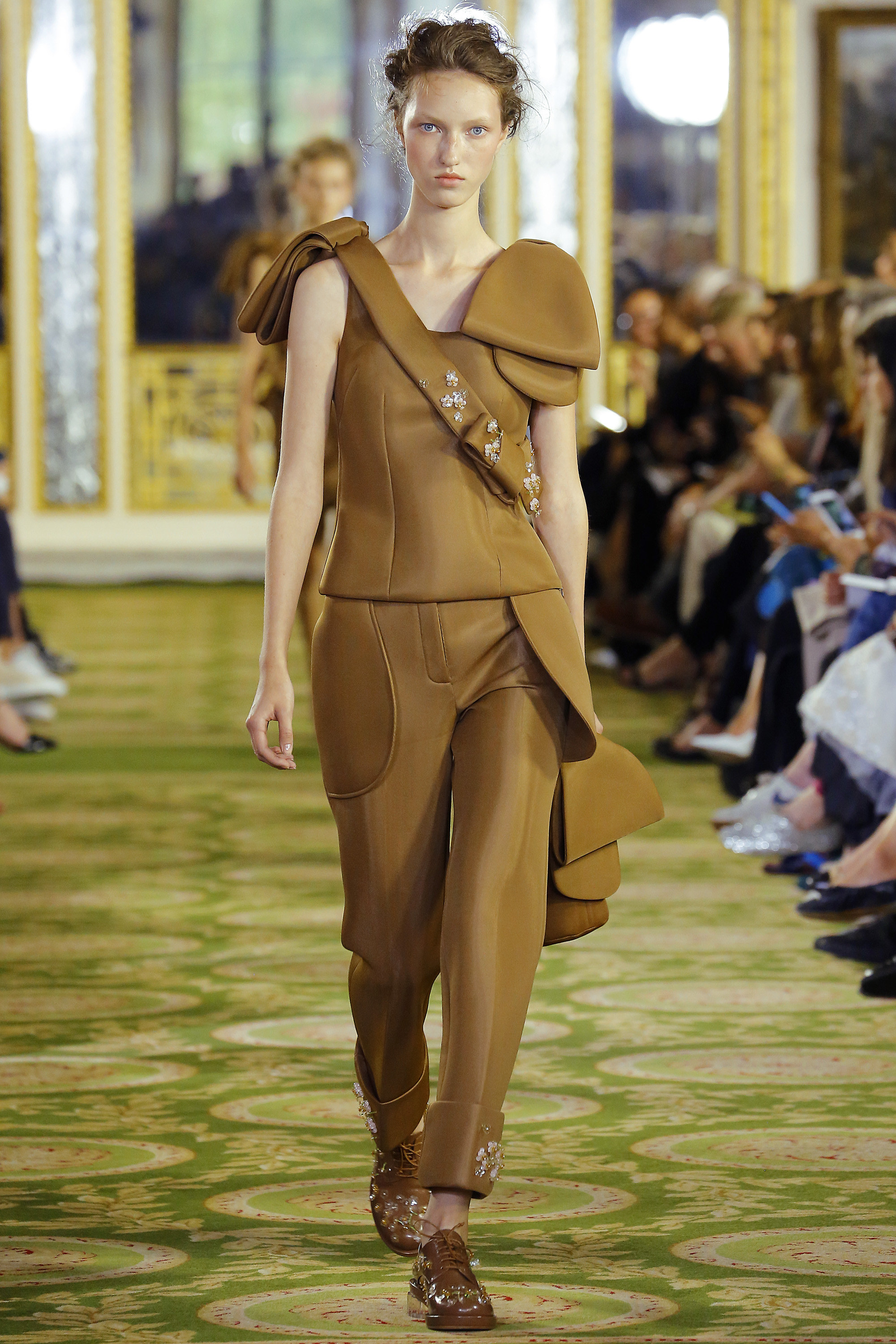 Just enough embellishments for visual interest, stopping short of gratuitous ostentation.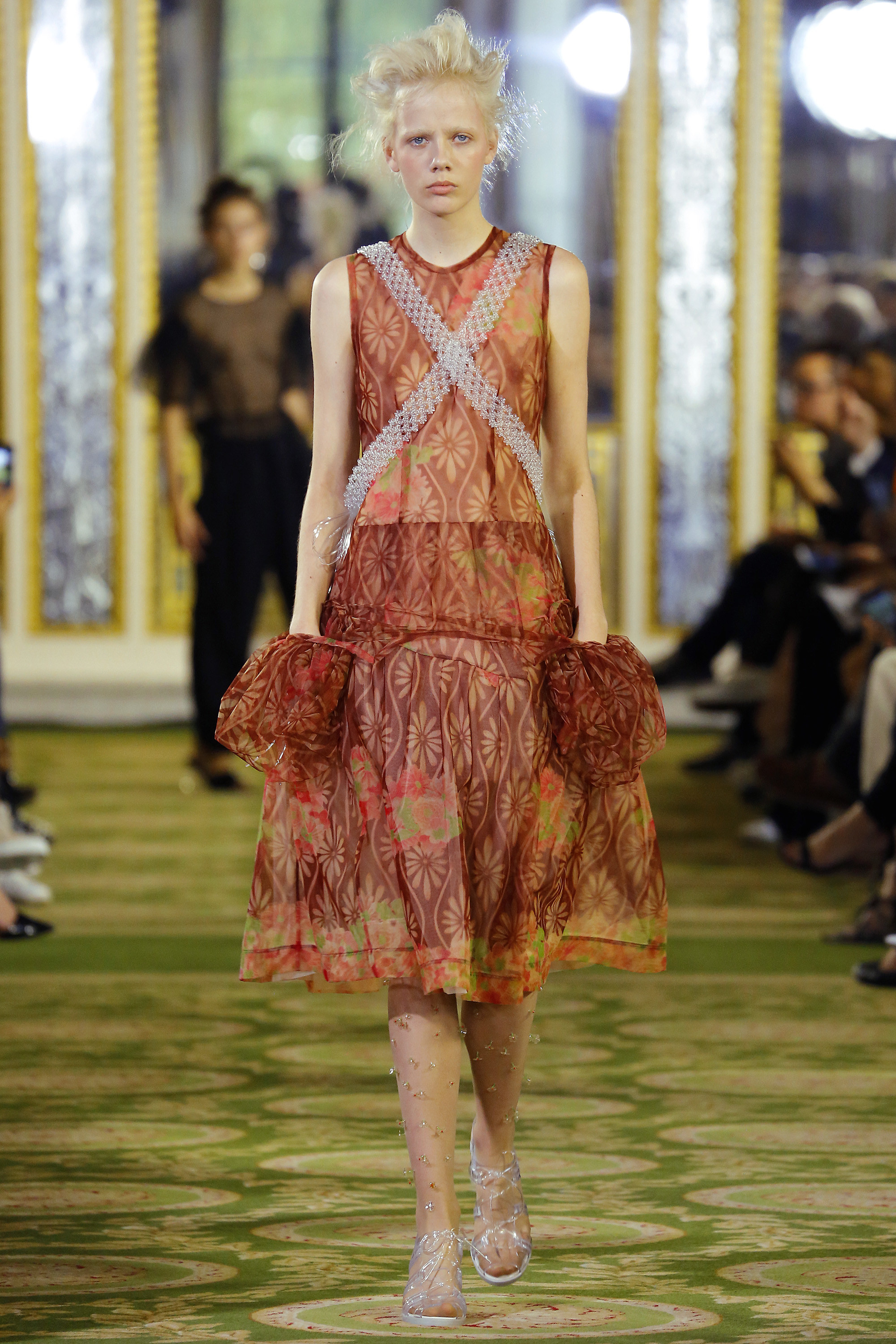 Flounces, flourishes and flowers, oh my! (And really, what a yummy print).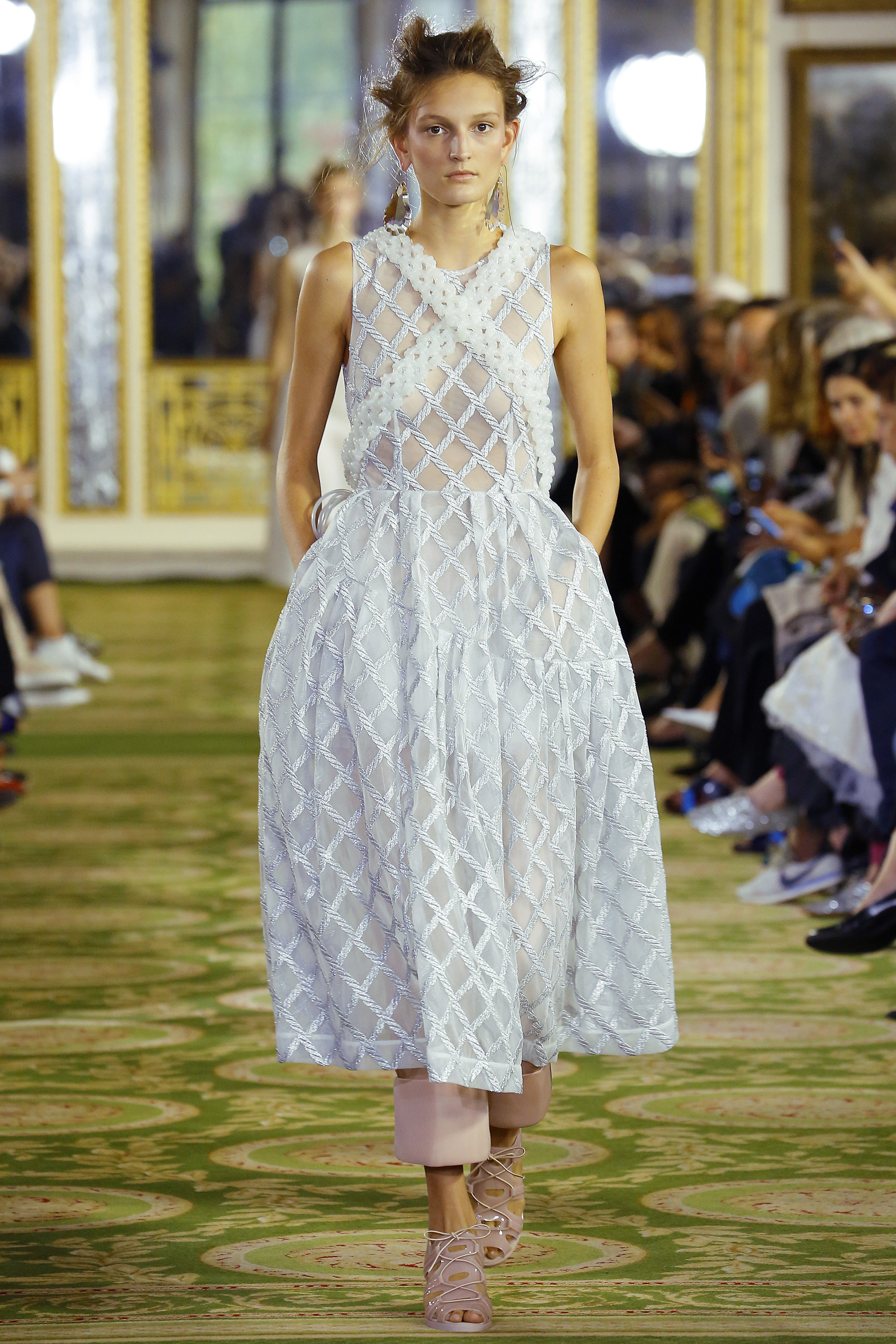 Love the combination of girly midi dress and dusty rose slim cuffed trousers. Anything goes when it comes to layering. Think of any dress, mini to maxi, as a tunic, to thrown over leggings or full on pants. Never fear a gust of wind or sidewalk grate.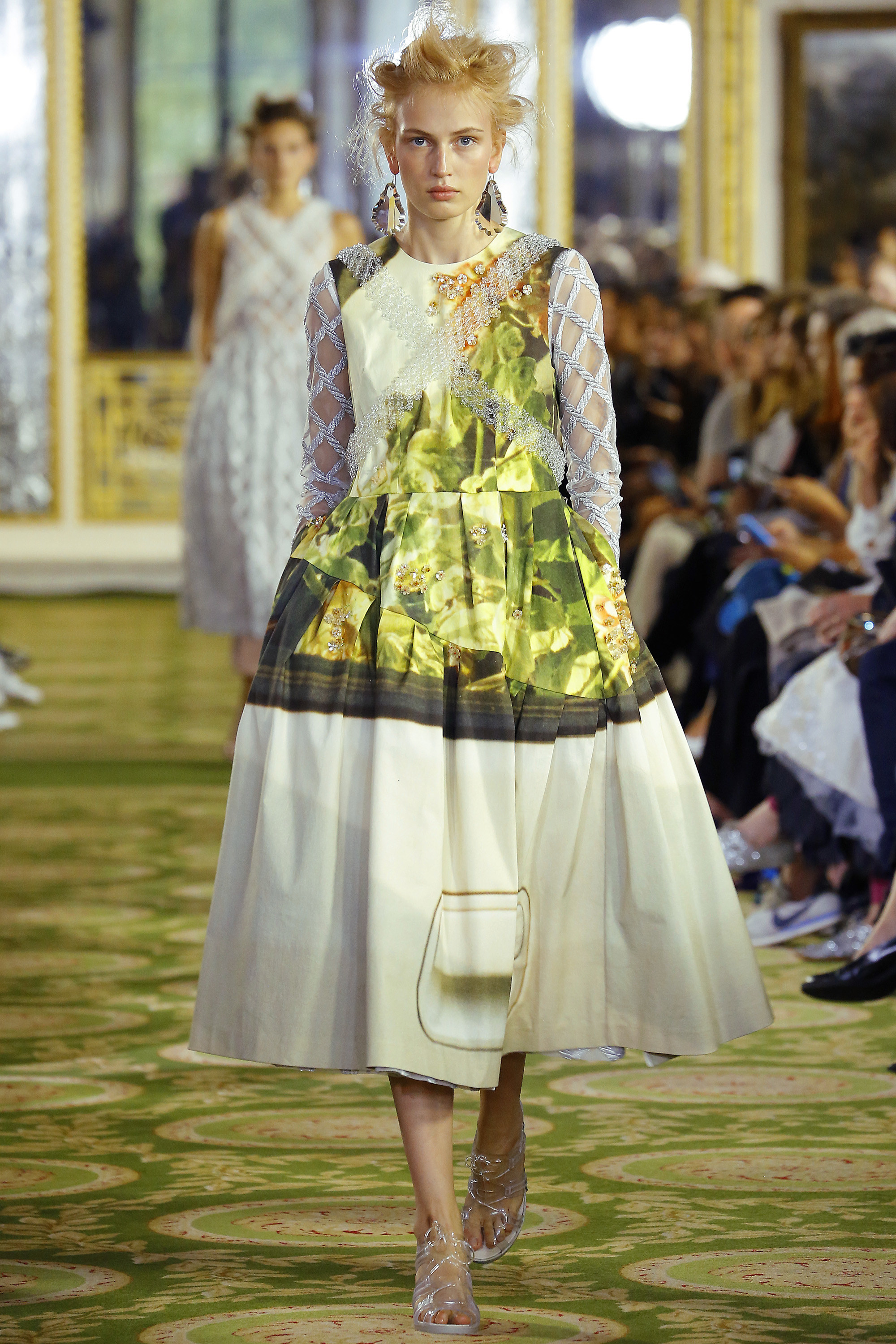 All the Rocha dresses are eminently wearable statement pieces that can be worn out and about (get out the underpinnings for sure) on random sojourns. This baby could be worn to any black tie affair, just glam up with some sparkly footwear.
Rocha manages to combine macrame, tulle, duchesse satin, and varied other rich and dramatic fabrications into sumptuous yet never over wrought delectables that harken back to times gone by, yet remain fresh and covetable. And COMFORTABLE!
GILES: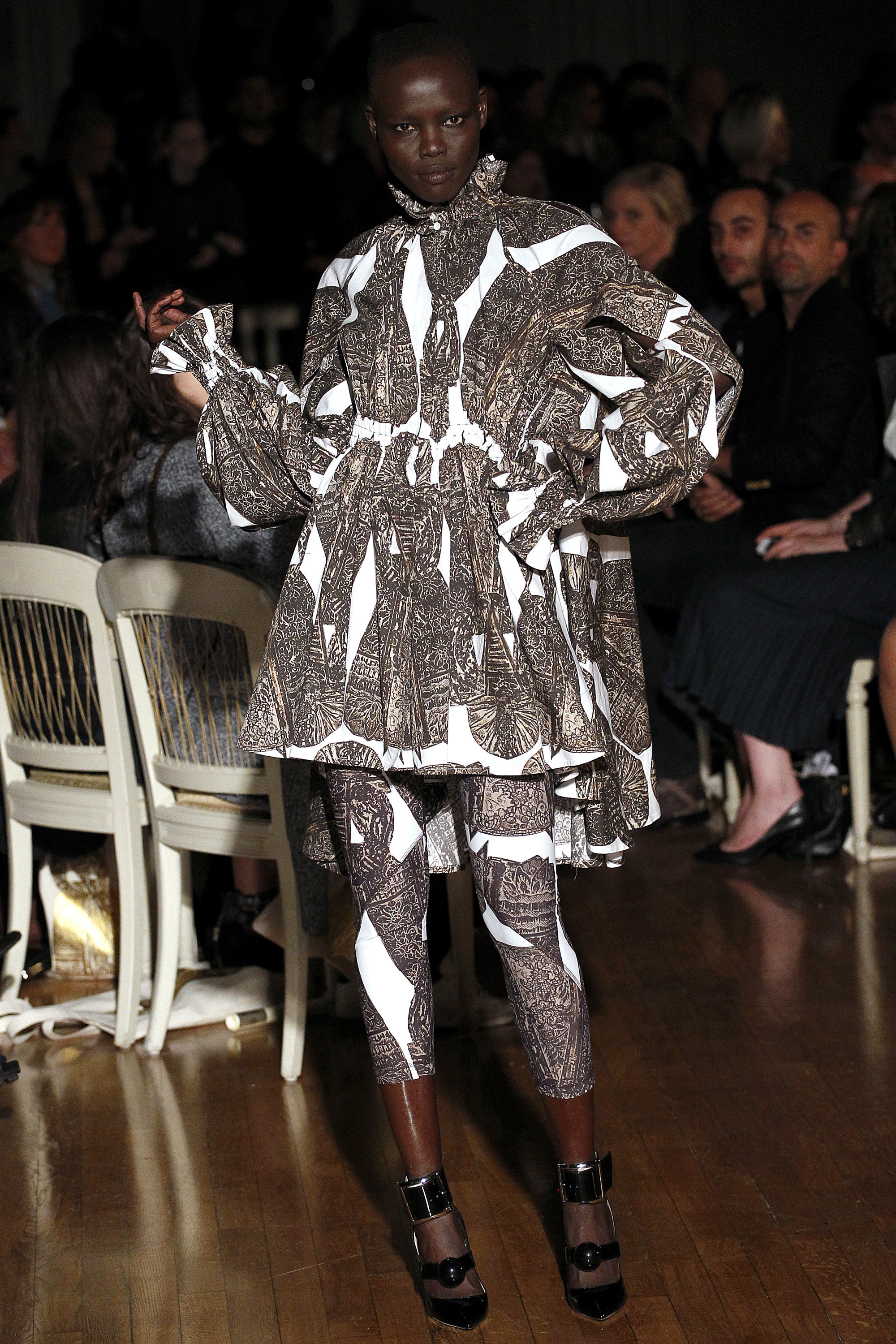 Latter day Henry VIII…….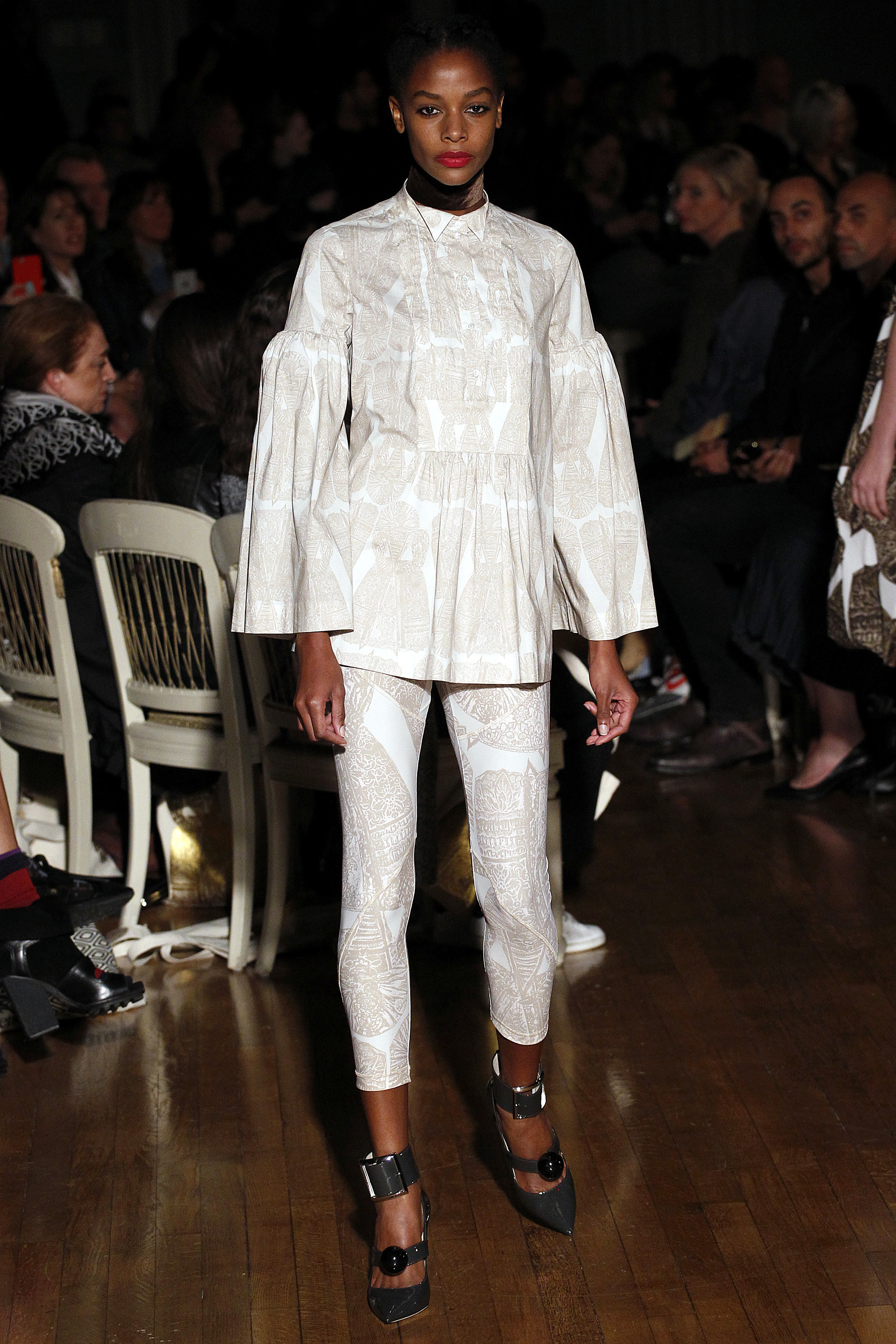 Striking blouse which could elevate summer shorts or culottes.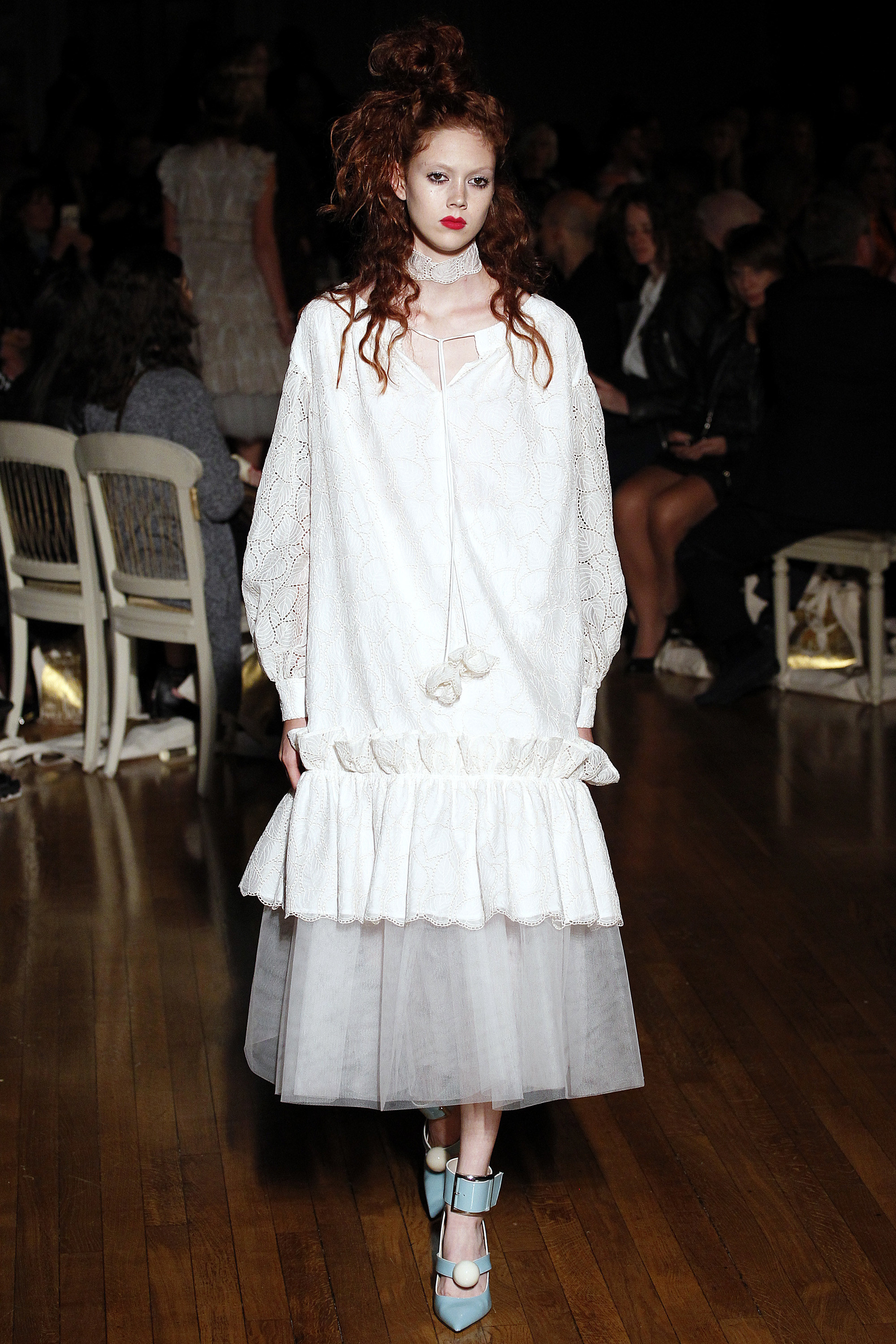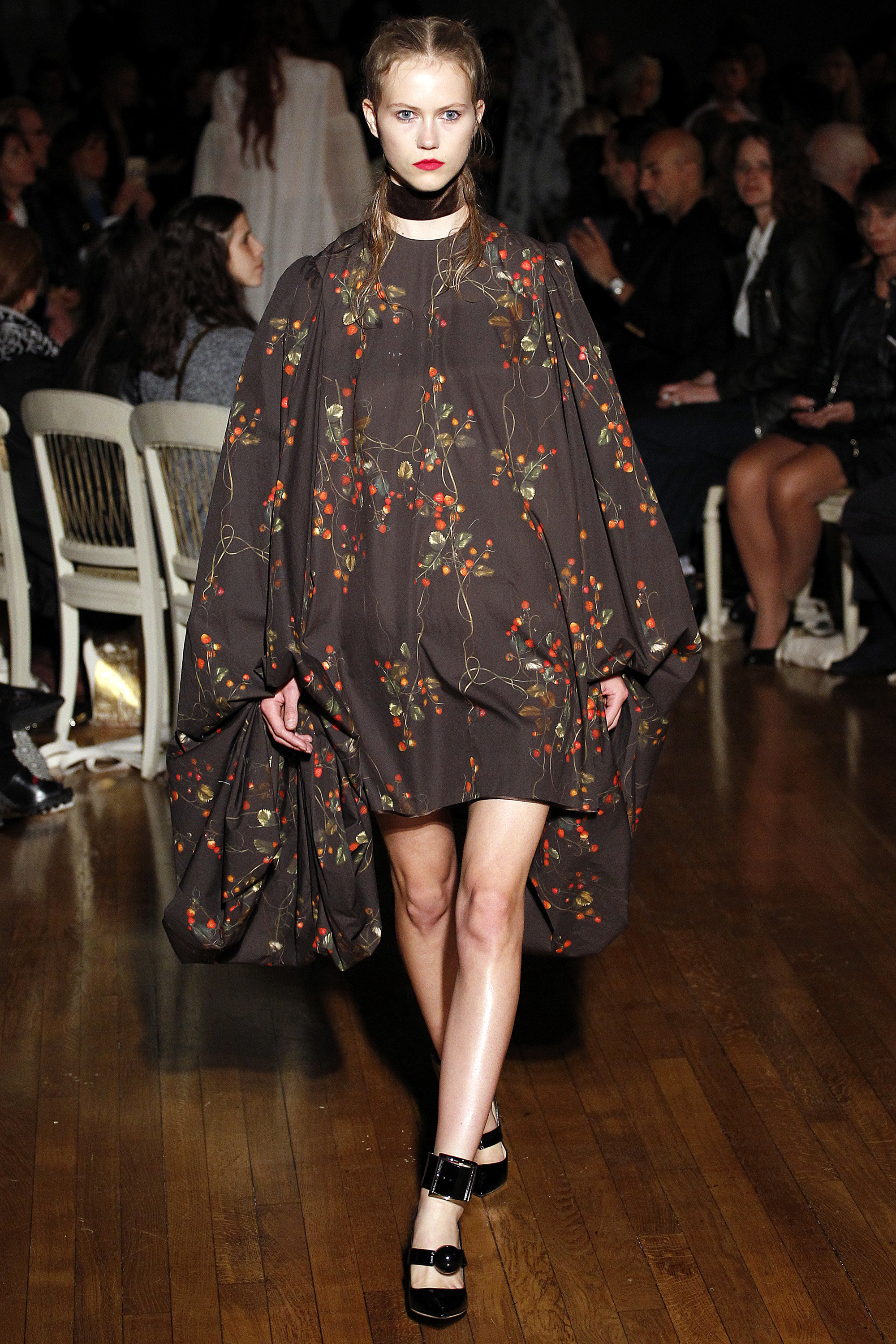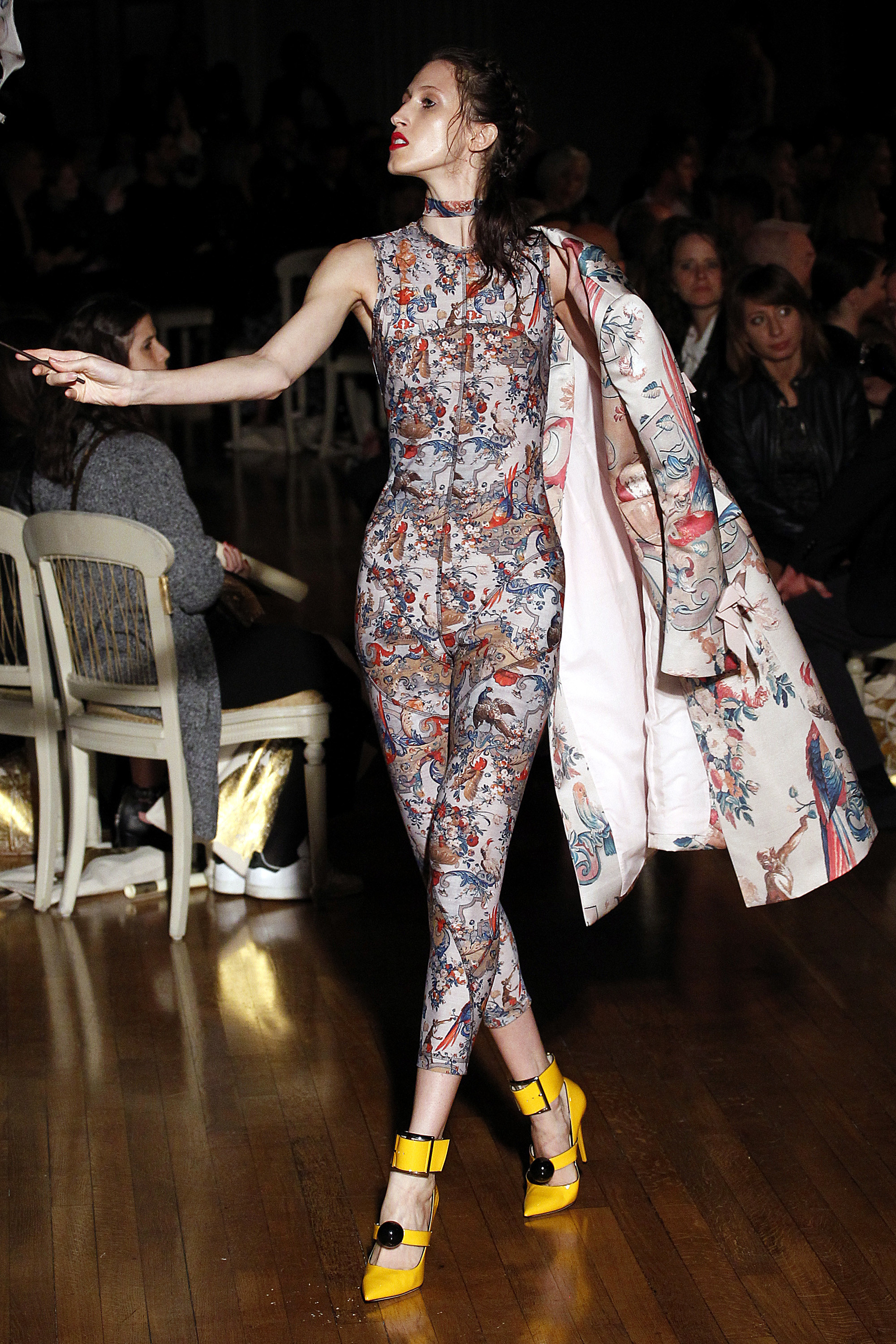 Ok, the one piece might a bit m u c h, but focus on the more wearable part of the duo, the jacket---my personal favorite piece of clothing, a versatile no brainer.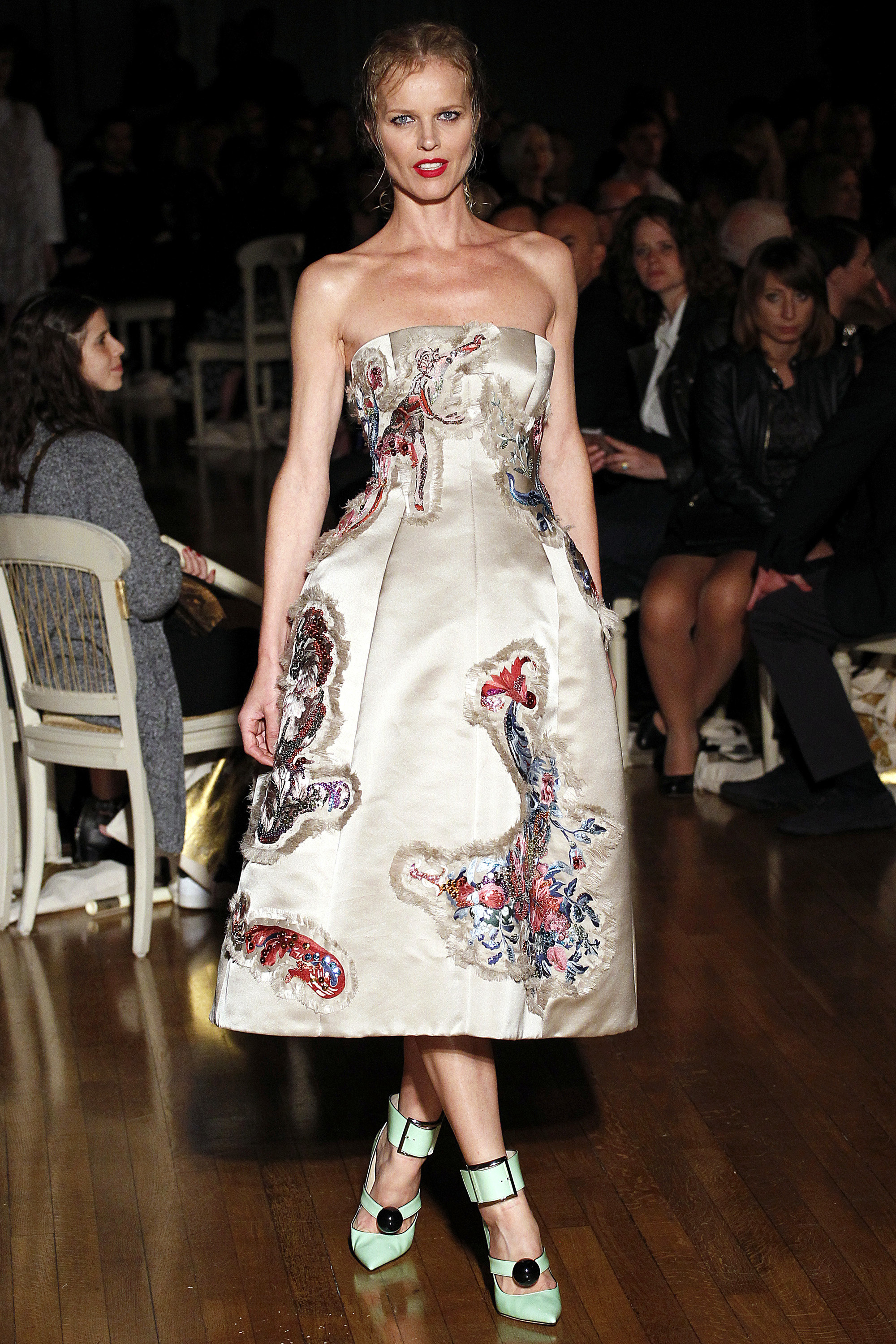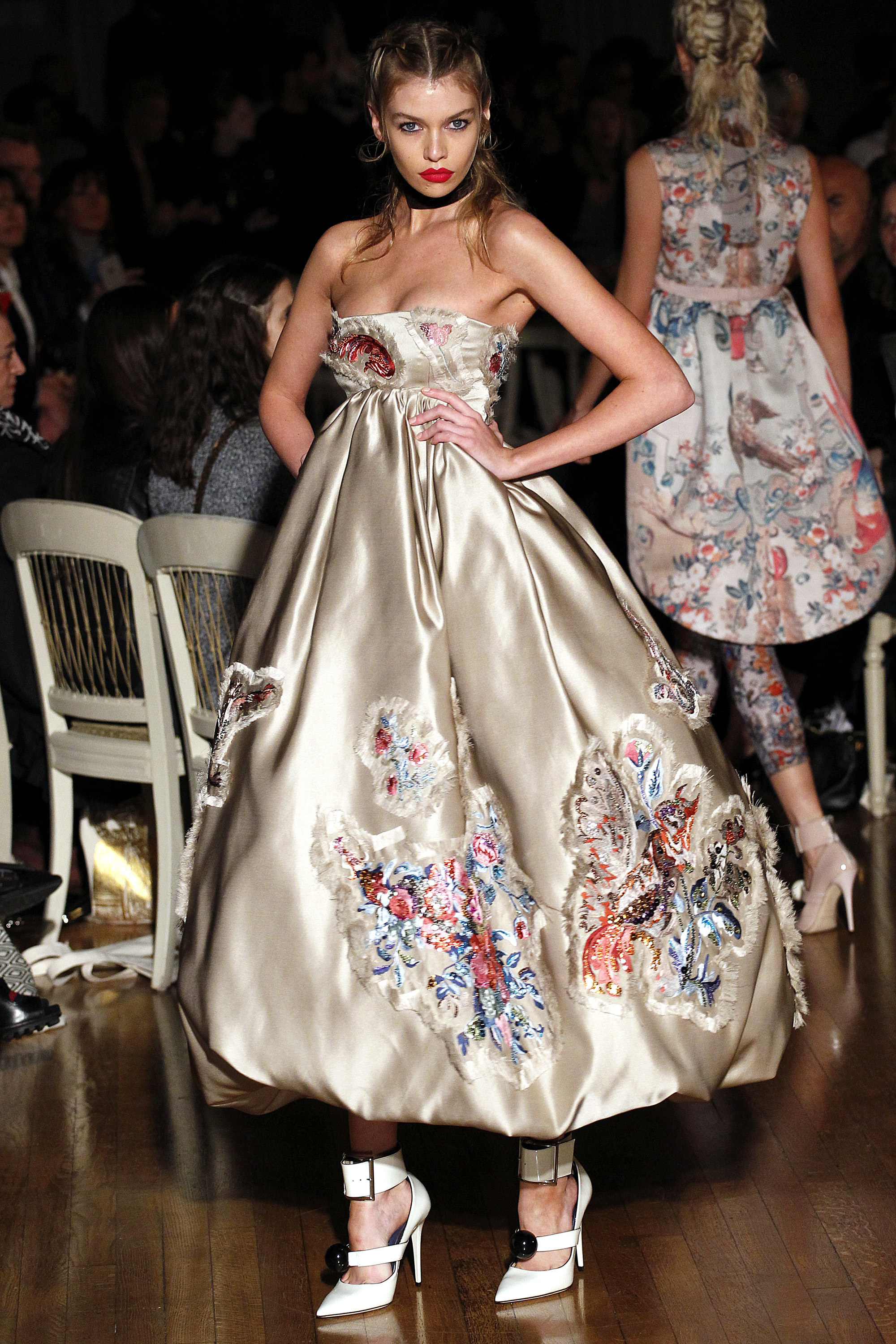 Two adorned satin wonders of the couture variety. Reminds me of old school Dior. And the shoes are Kool too.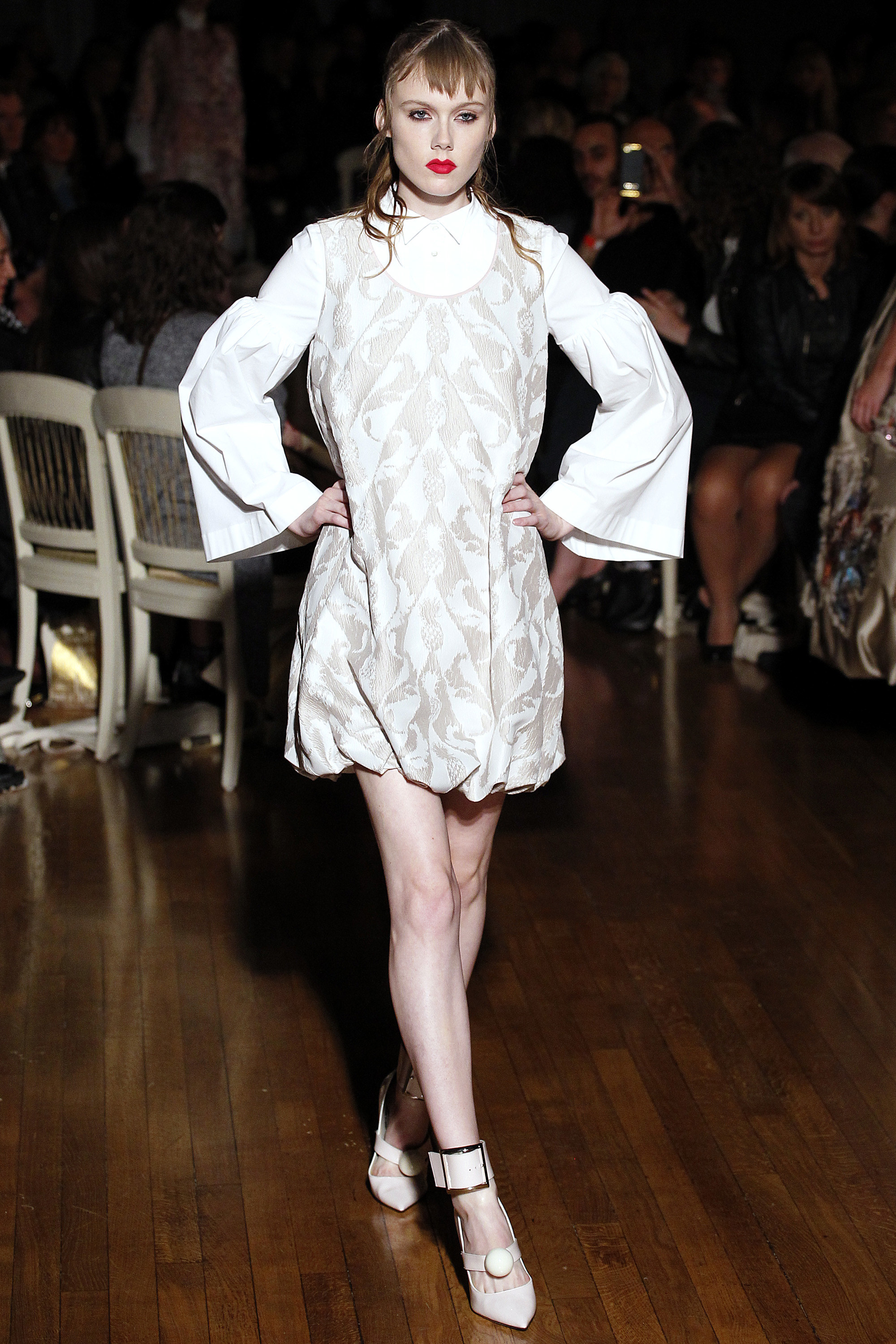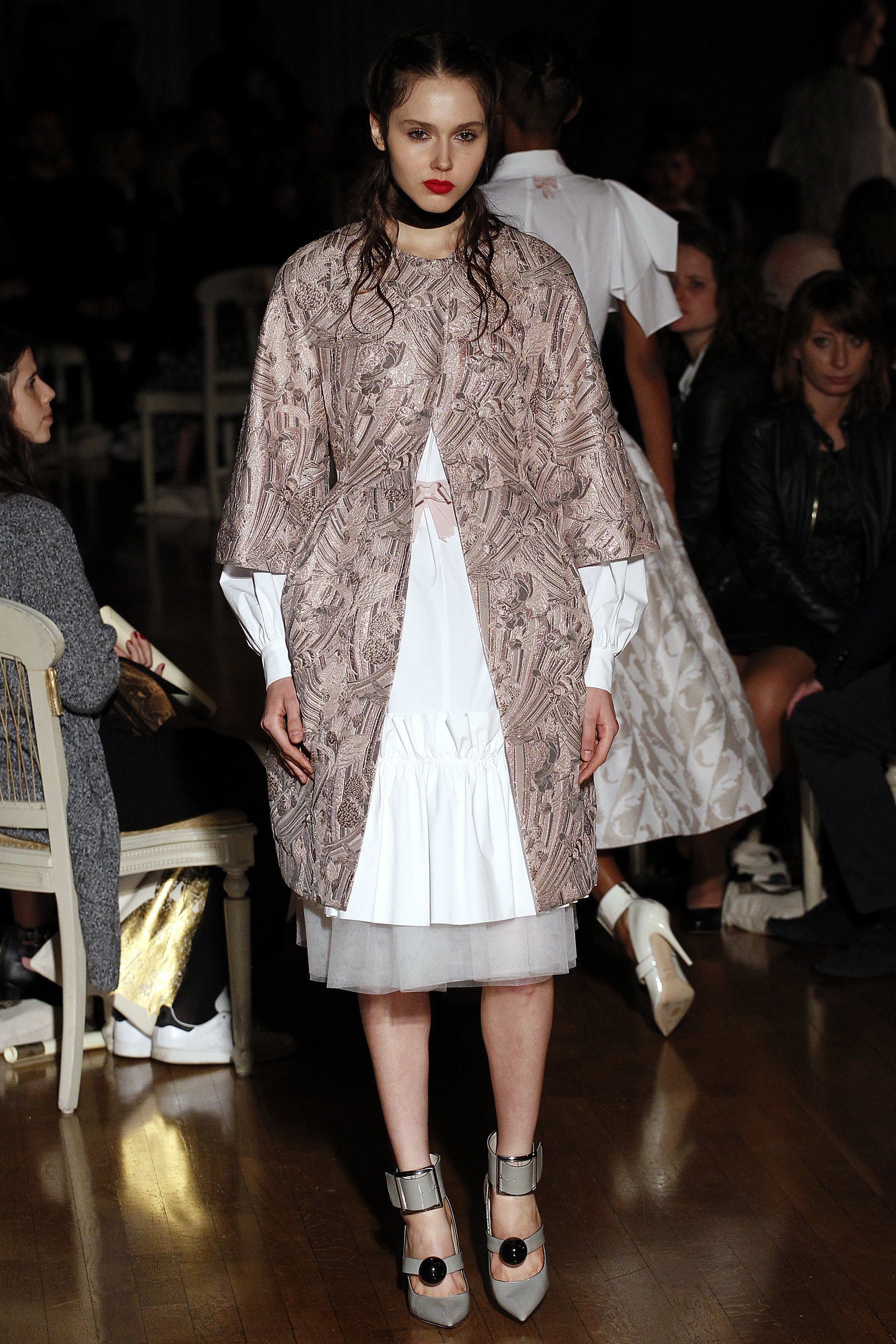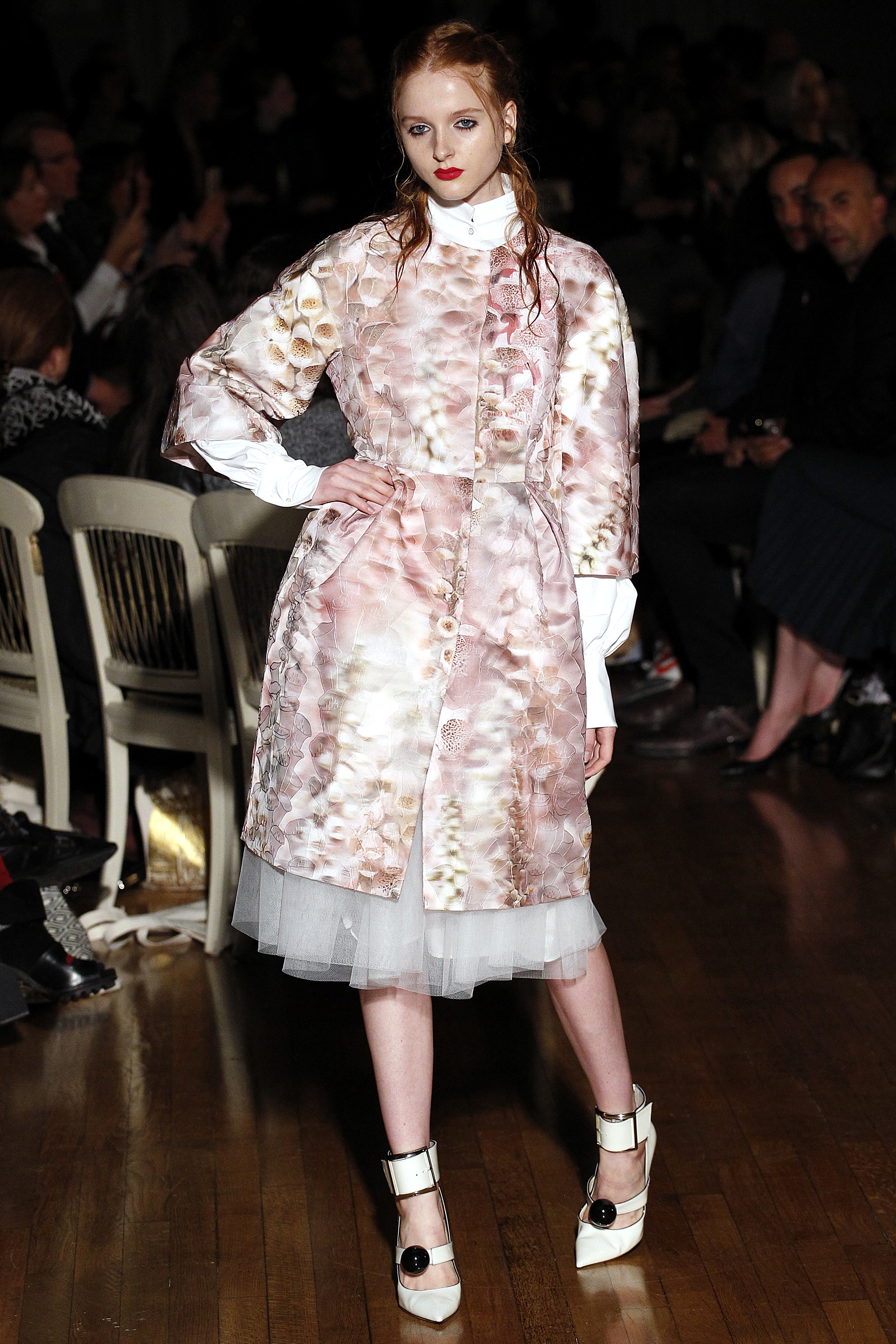 Again, you can NEVER go wrong with a gorgeous jacket (in a tried and true silhouette) of opulent jacquard or satin. For added theatricality, throw over a tulle underpinning as above, but don't be afraid to glam up some skinny jeans with one of these beauties. Timeless.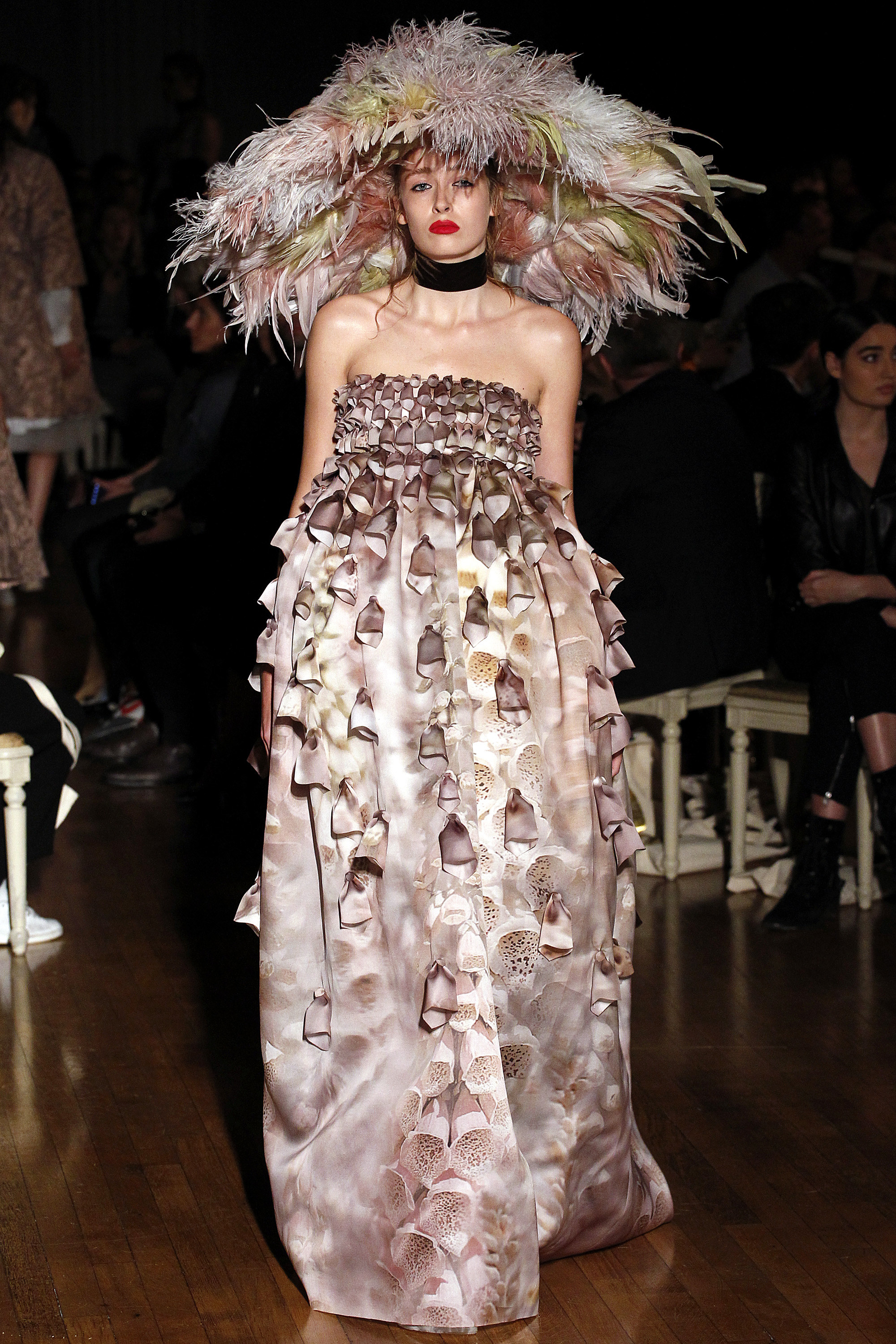 There are the occasional runway pret-a-porter pieces which could just as easily come sashaying down the haute couture runway, and these pieces are they. The big feathered hats are over the top in a good way, and complete the dramatic effect.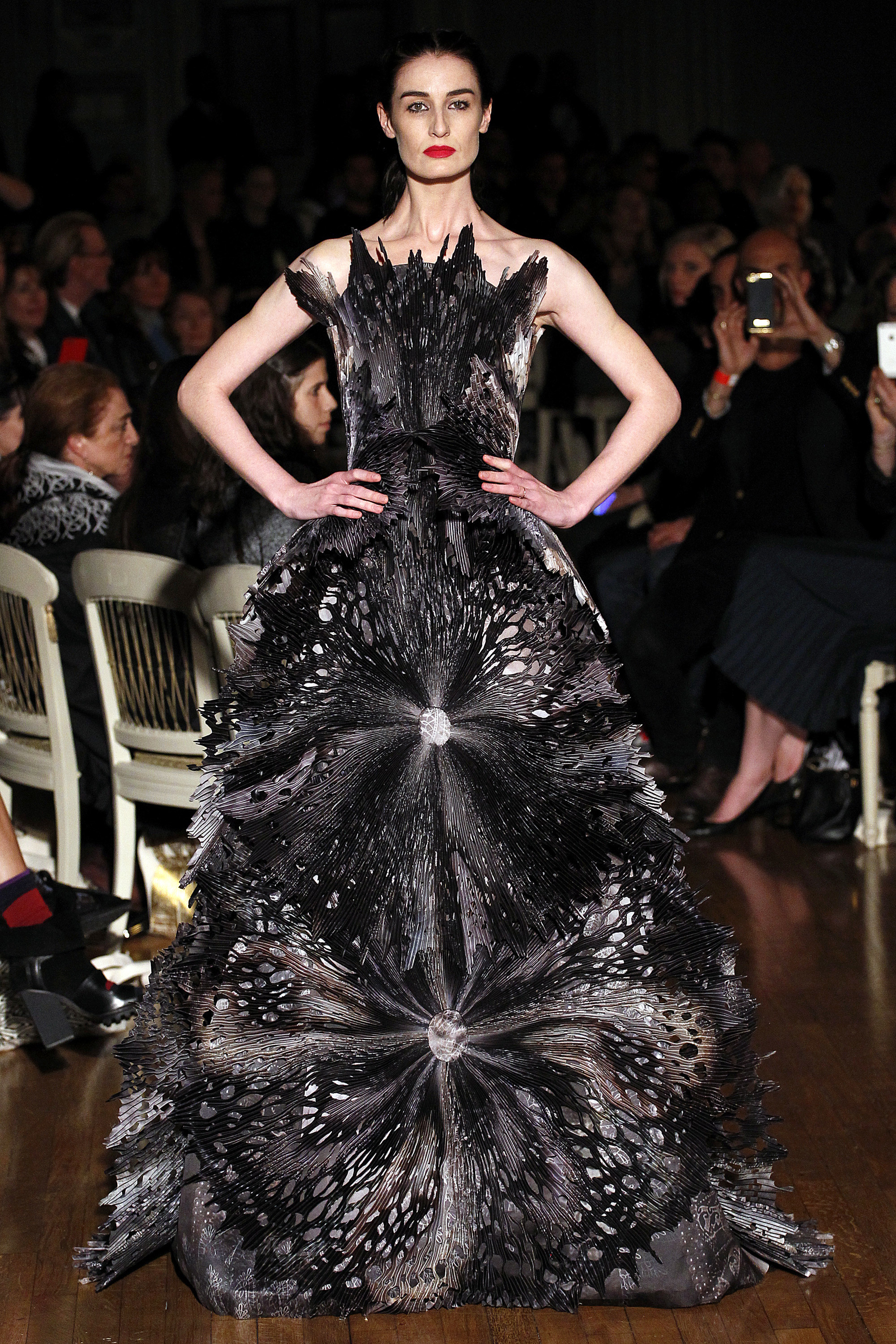 K A B O O M! This belongs in an archival exhibit. Brings to mind a prehistoric primordial forest. Or, a three dimensional rorschach test.
GARETH PUGH: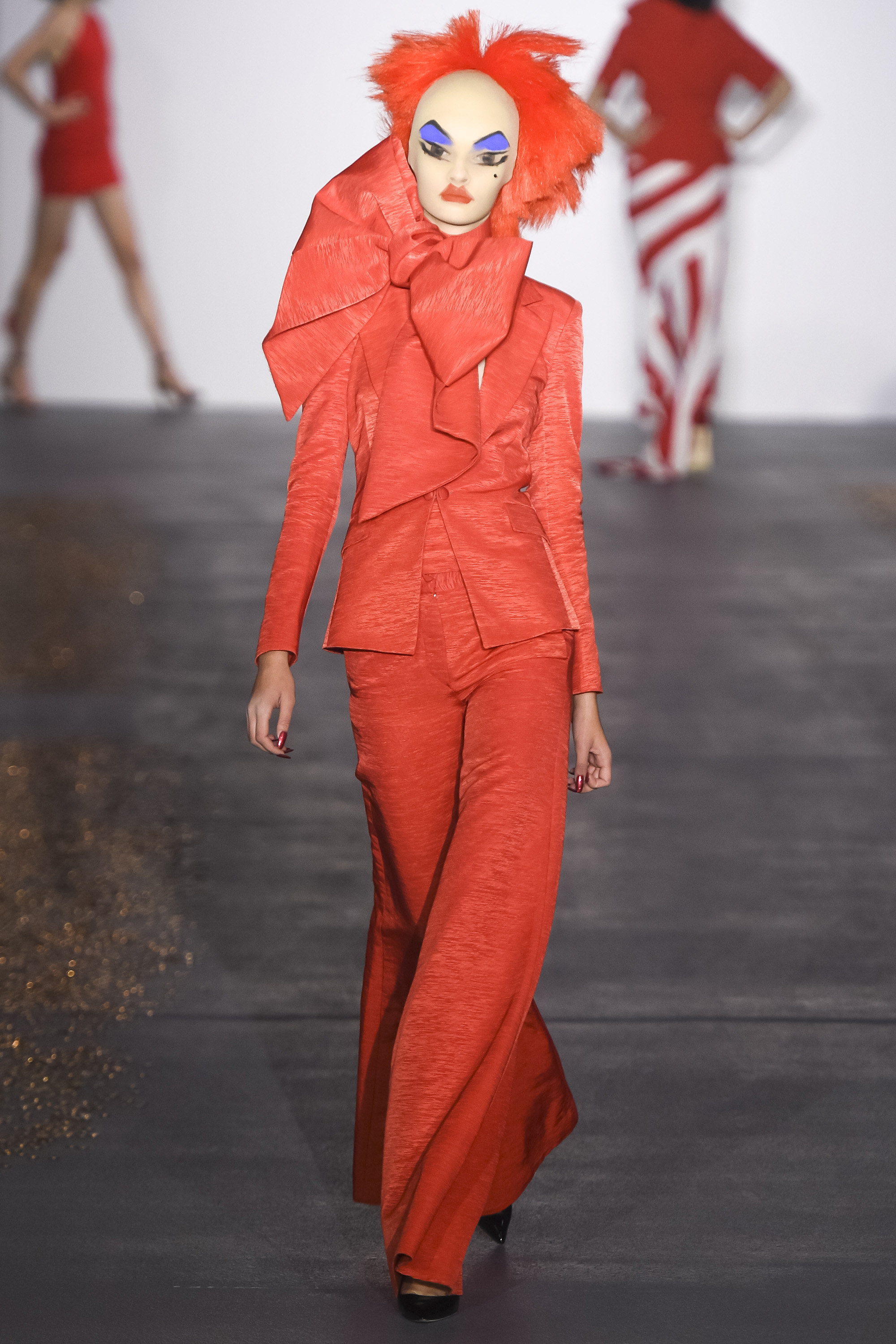 This entire collection was nothing if not BOLD, vibrant, and sometimes brazen. A veritable unabashed tribute to red, in the form of tonal ensembles and glittery paillettes.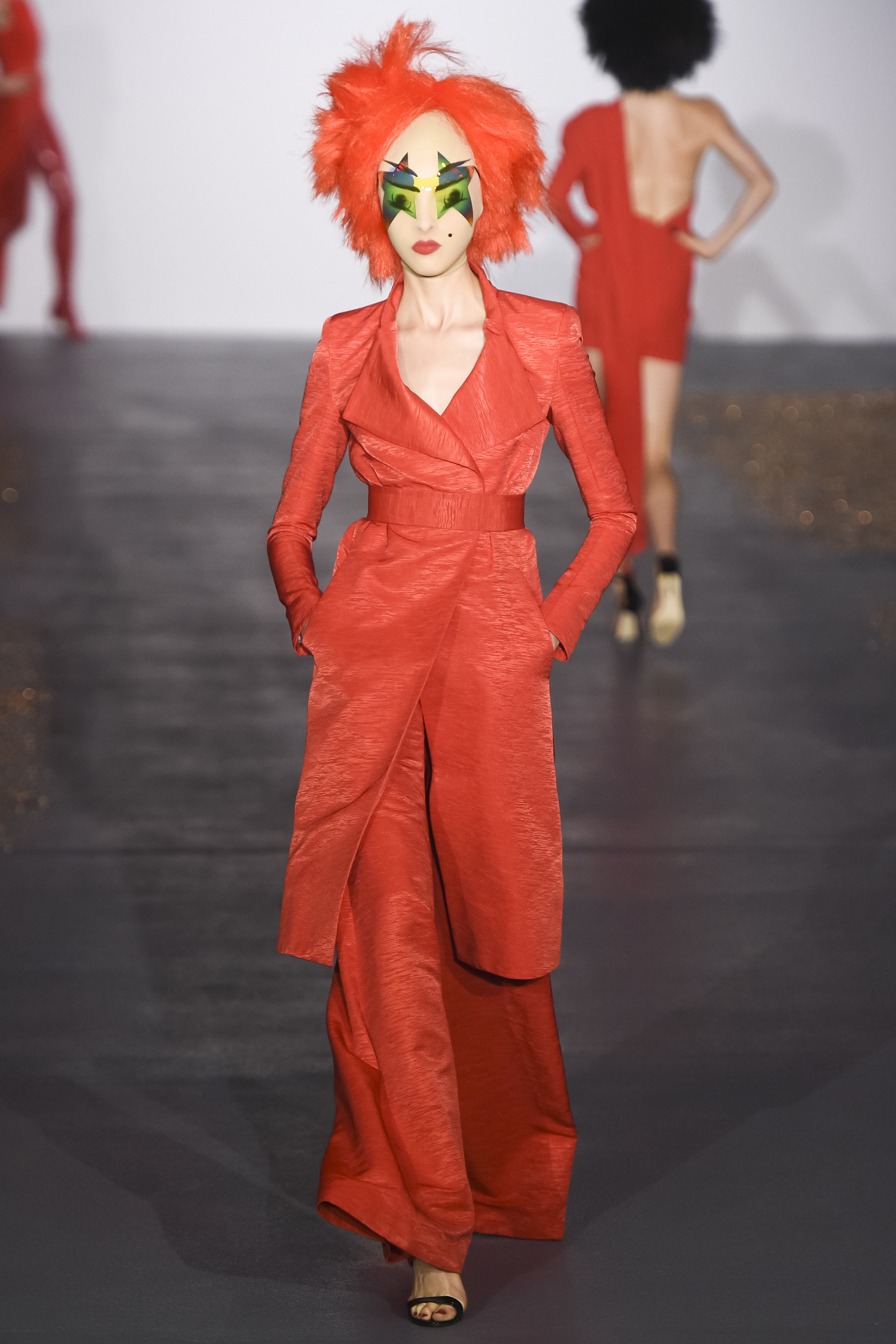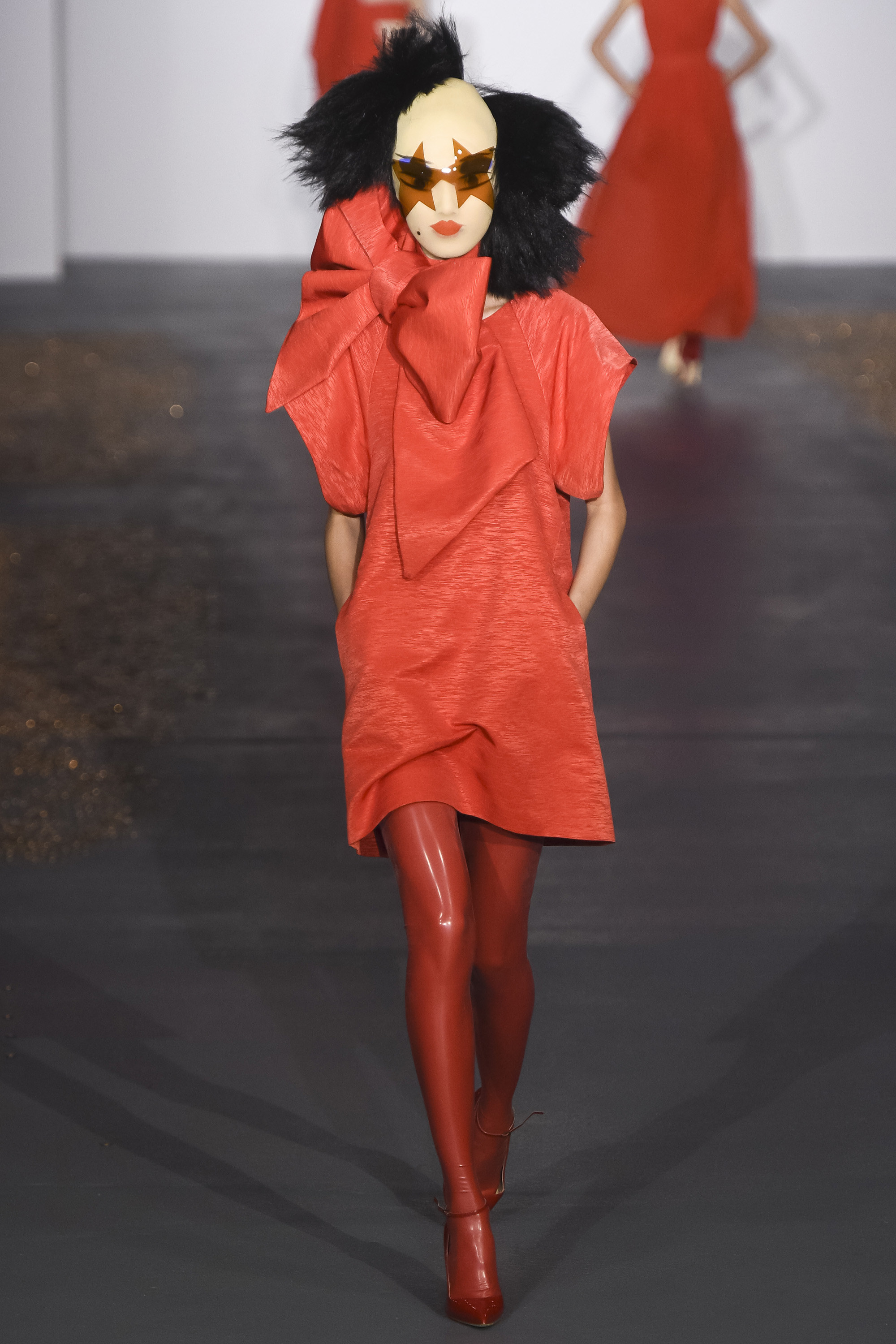 OMG, LOVE, LOVE, L O V E! I'd wear over skinny jeans and crazy bejeweled shoe booties such as these: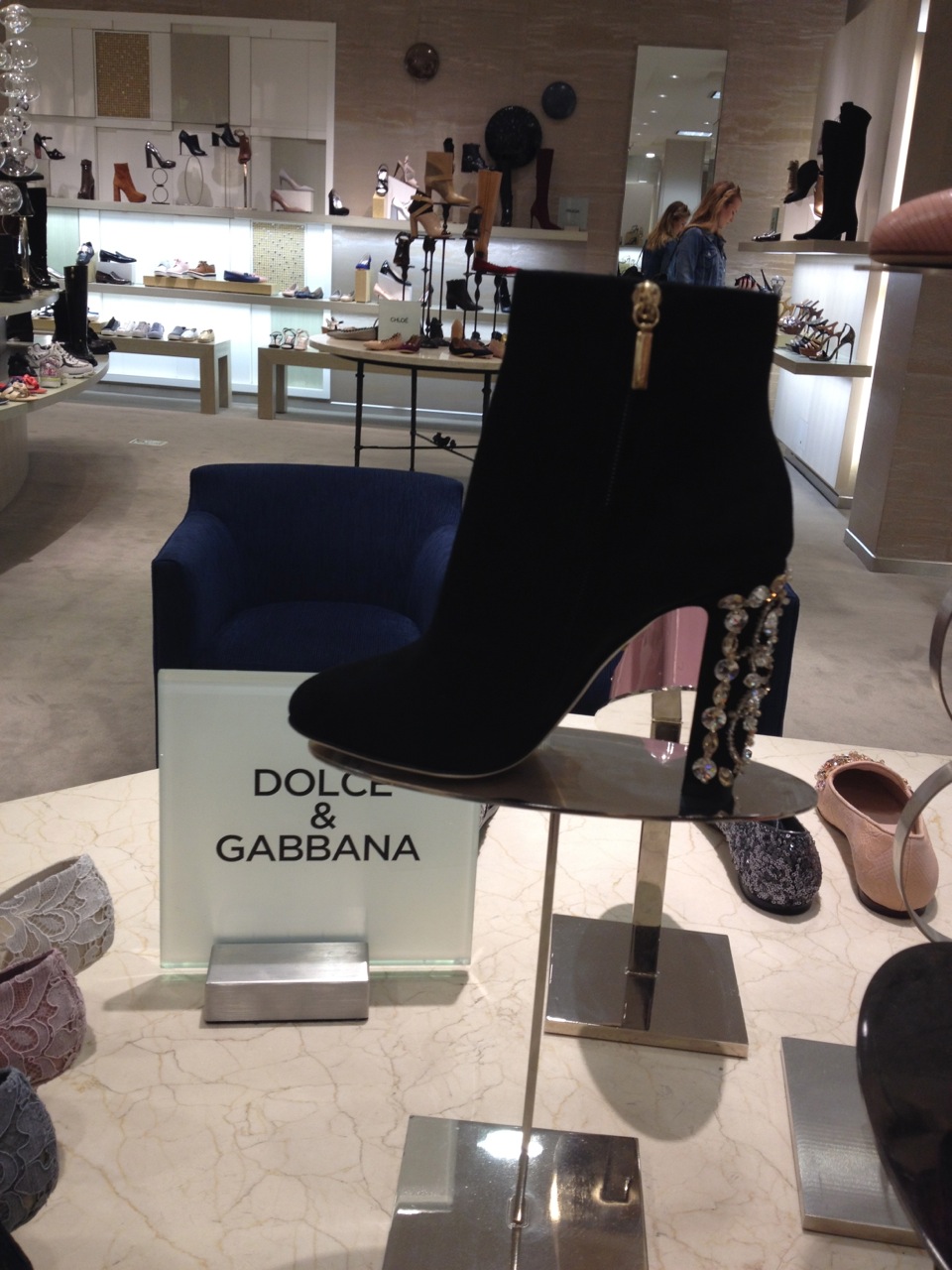 (To be found at Saks Fifth Avenue).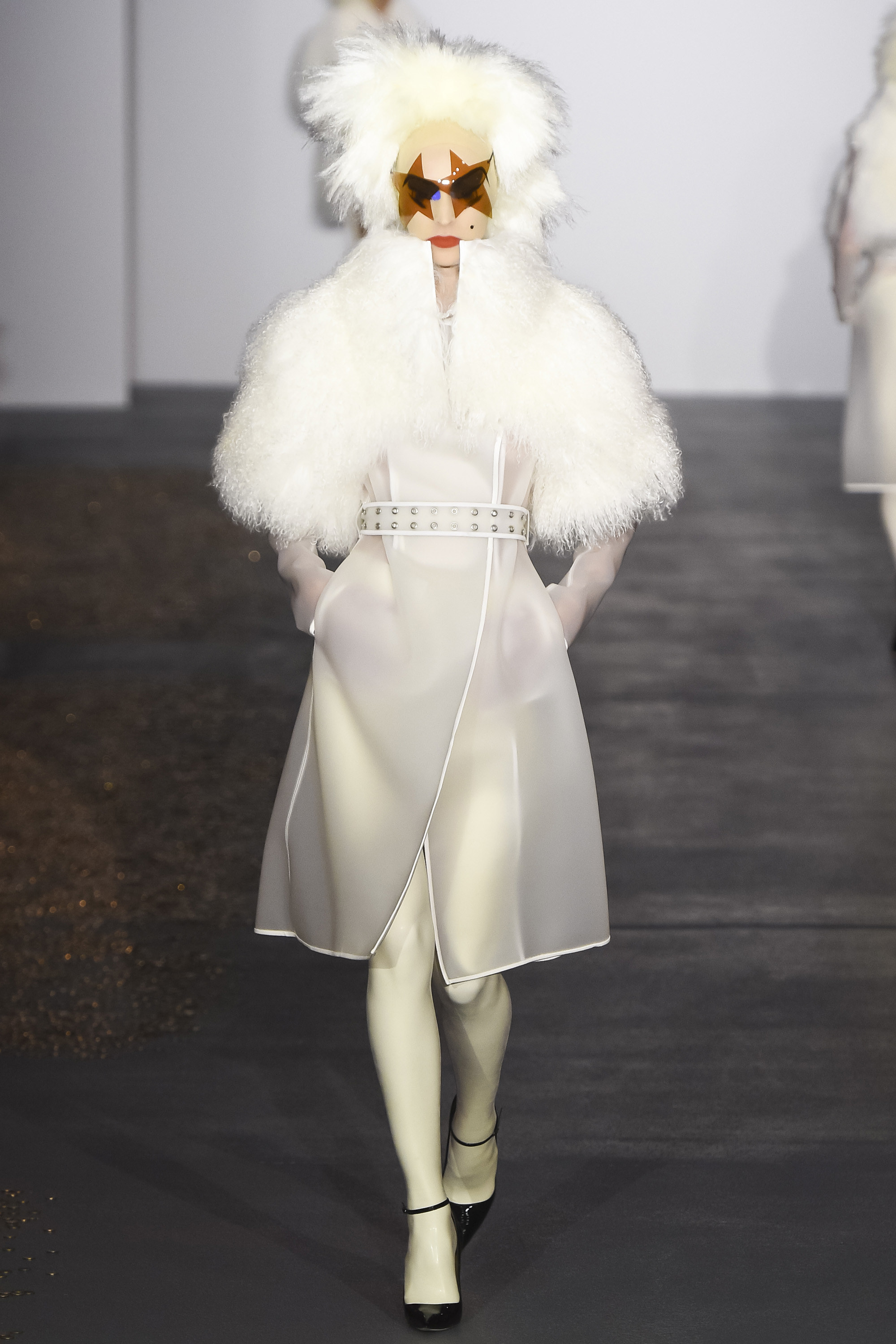 Not your Mother's trench coat. It might be time to branch out beyond the usual Burberry variety. The Mongolian collar adds the whimsical wild and wooly element.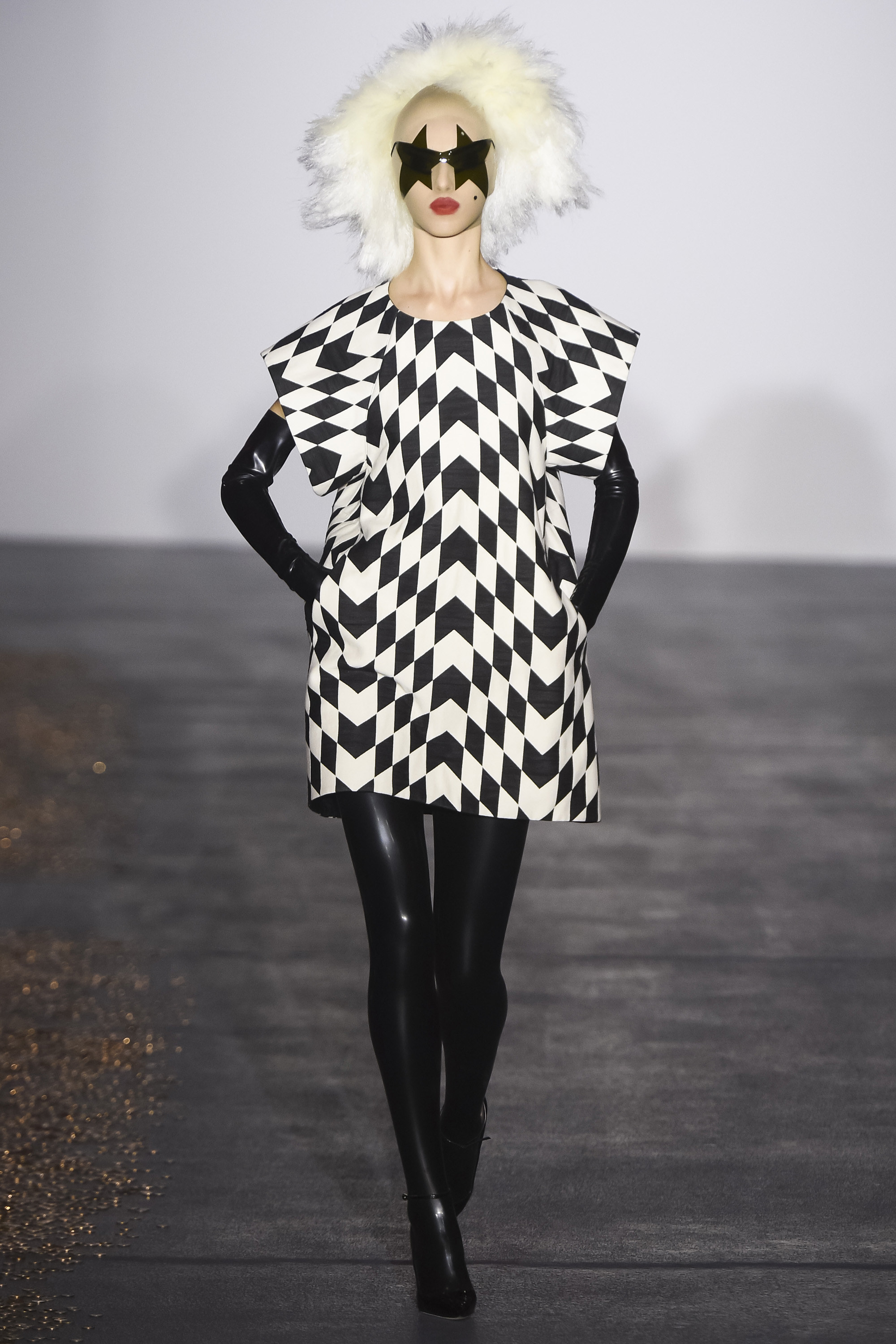 BAM! 60's mod. Get out the go-go boots!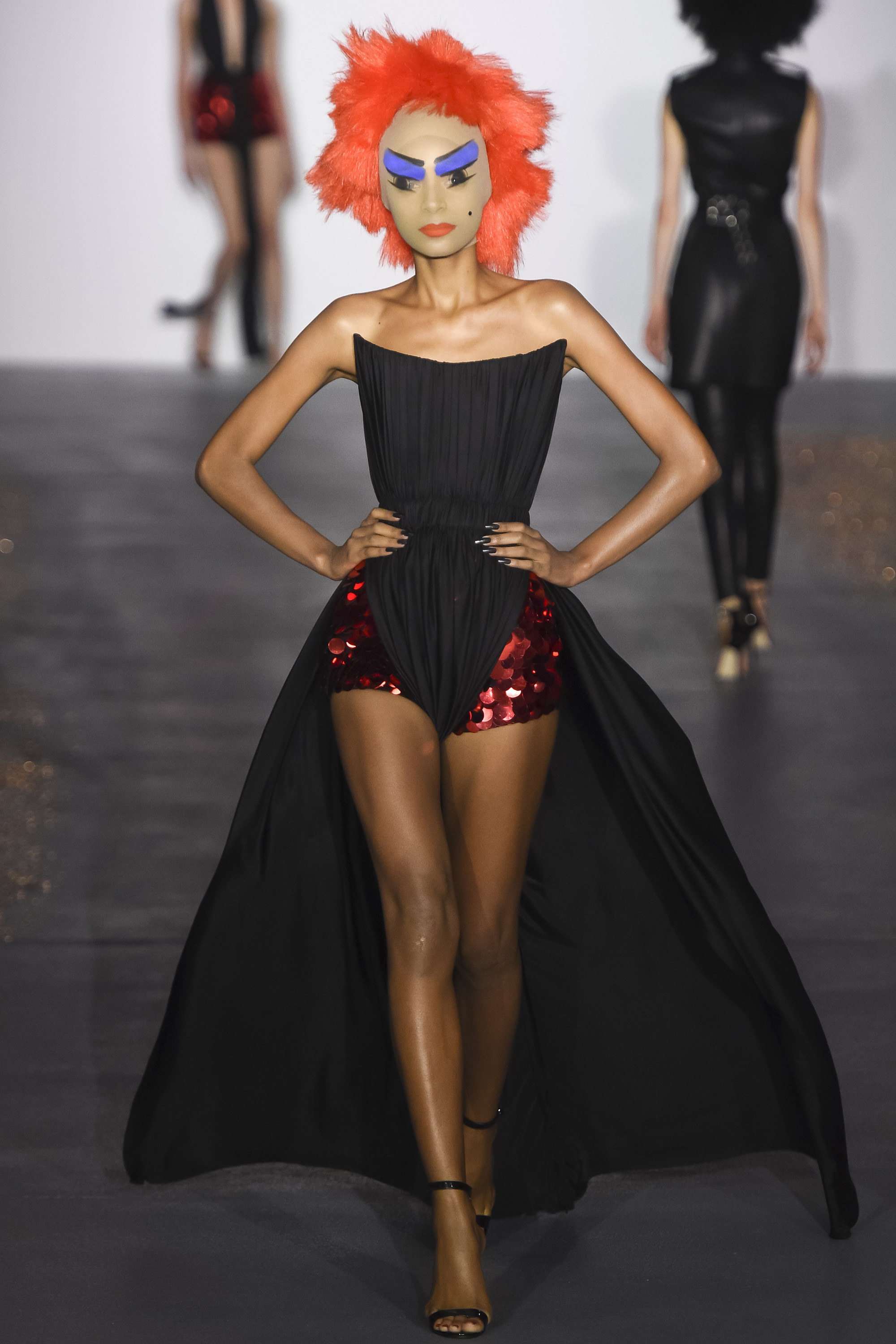 Showgirls……Broadway razzmatazz.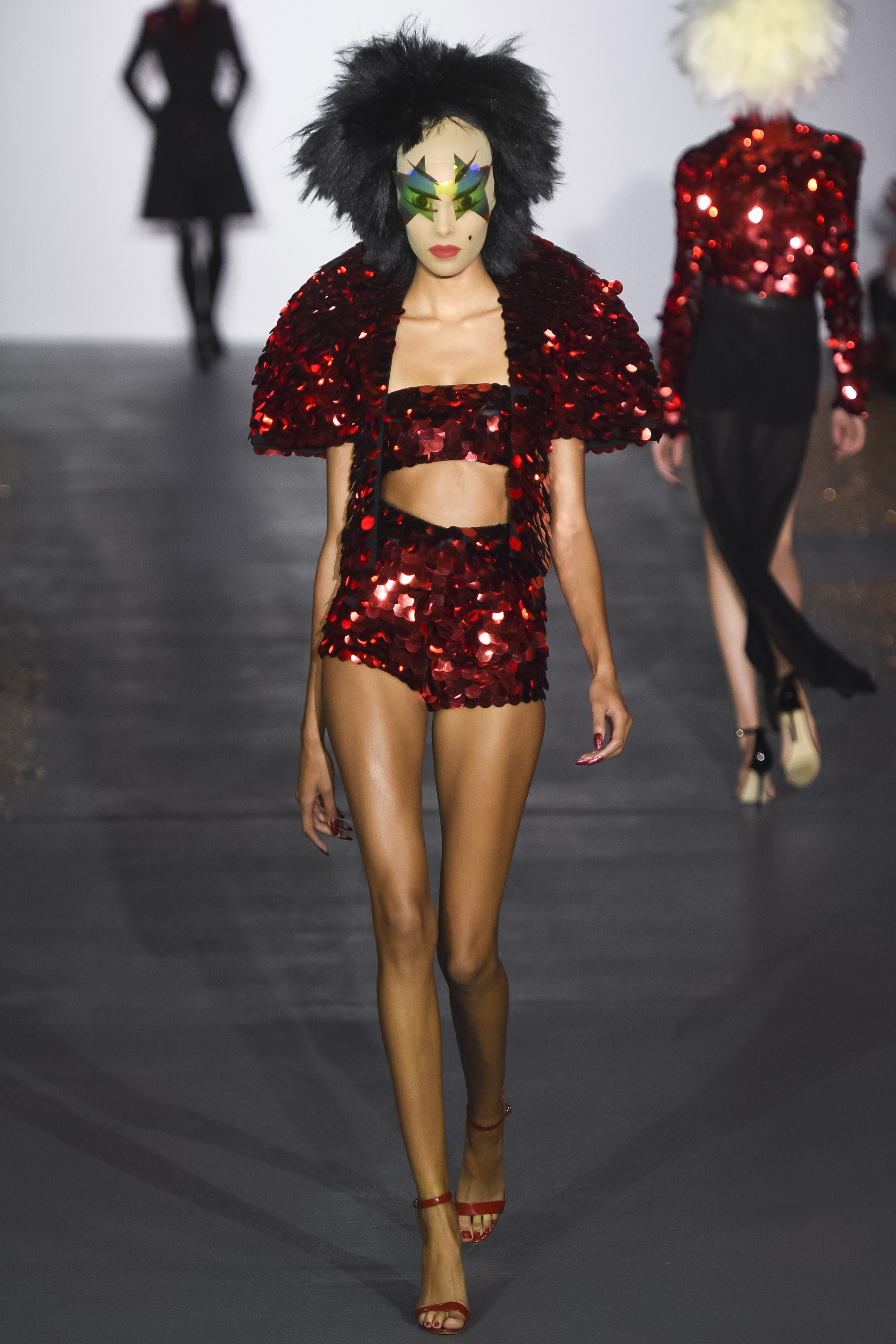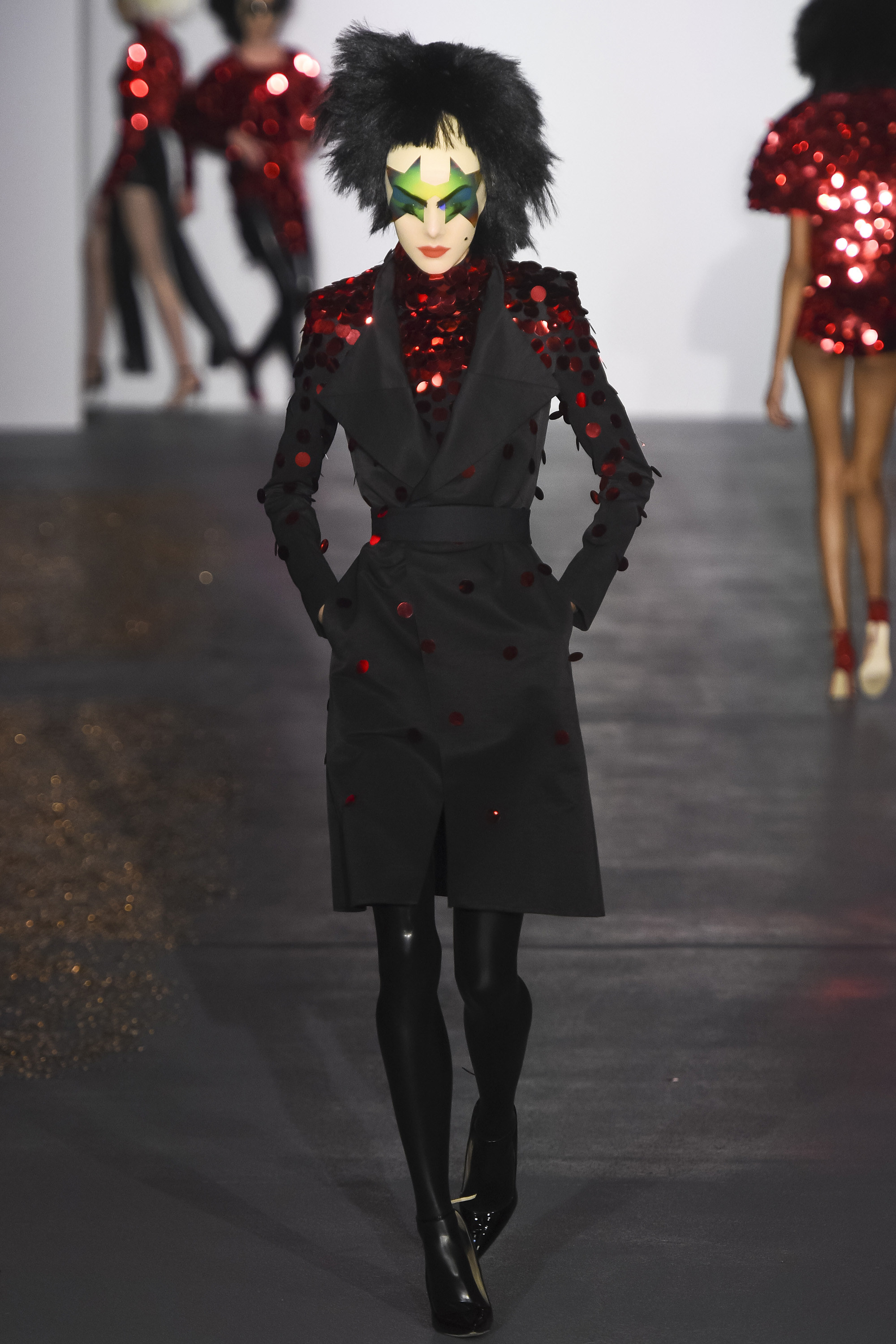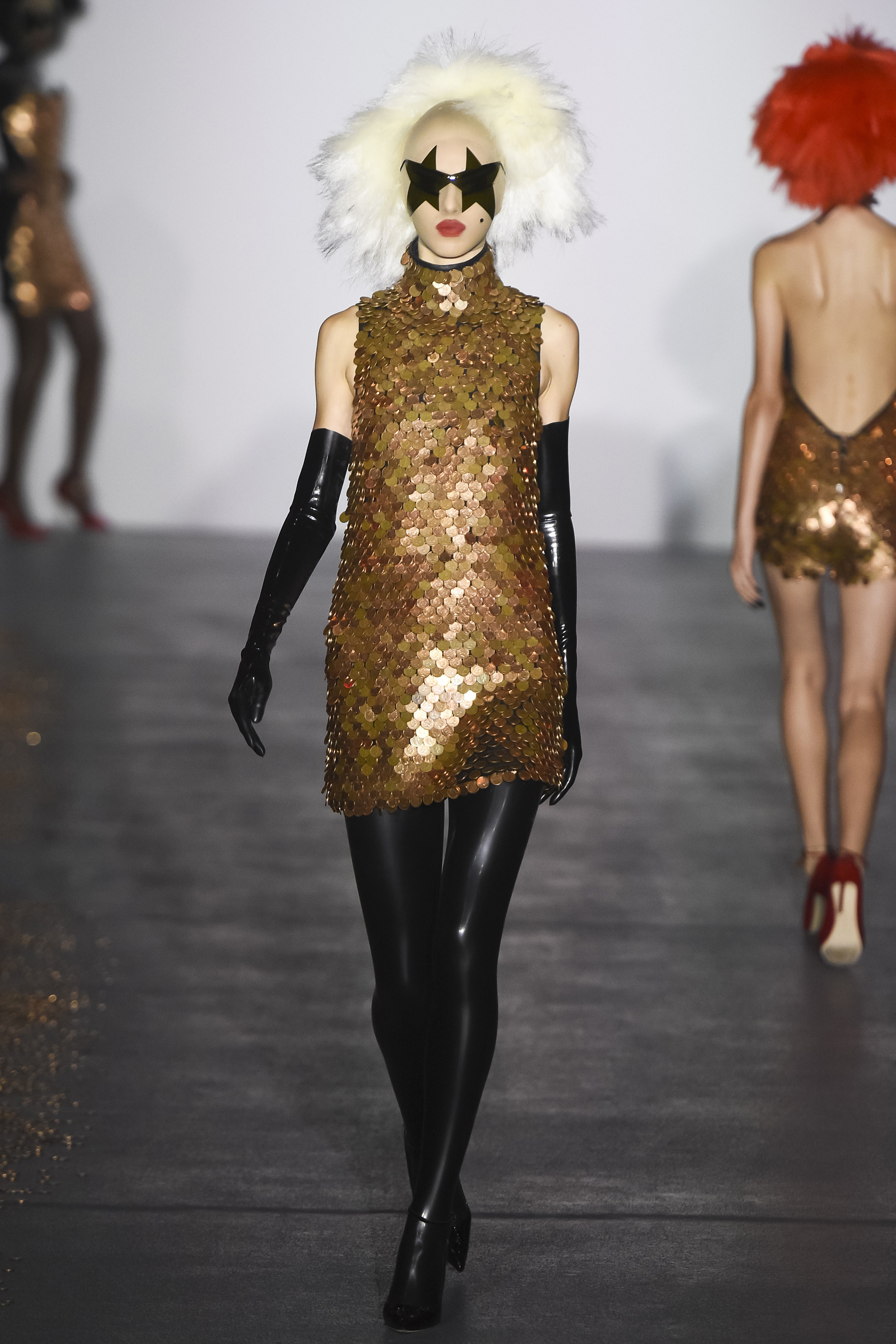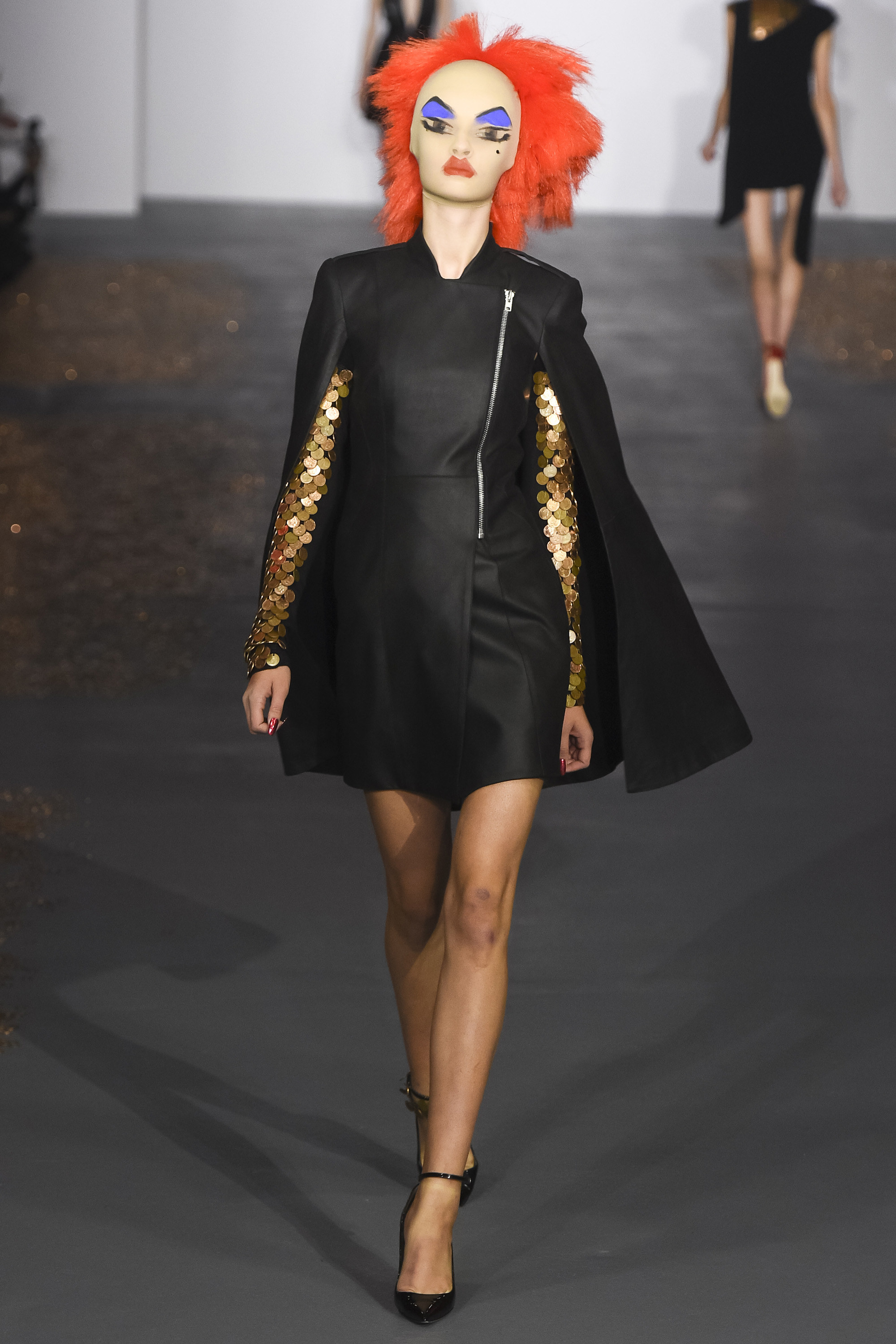 Capes are apparently the new black. And sequins and paillettes are always in style.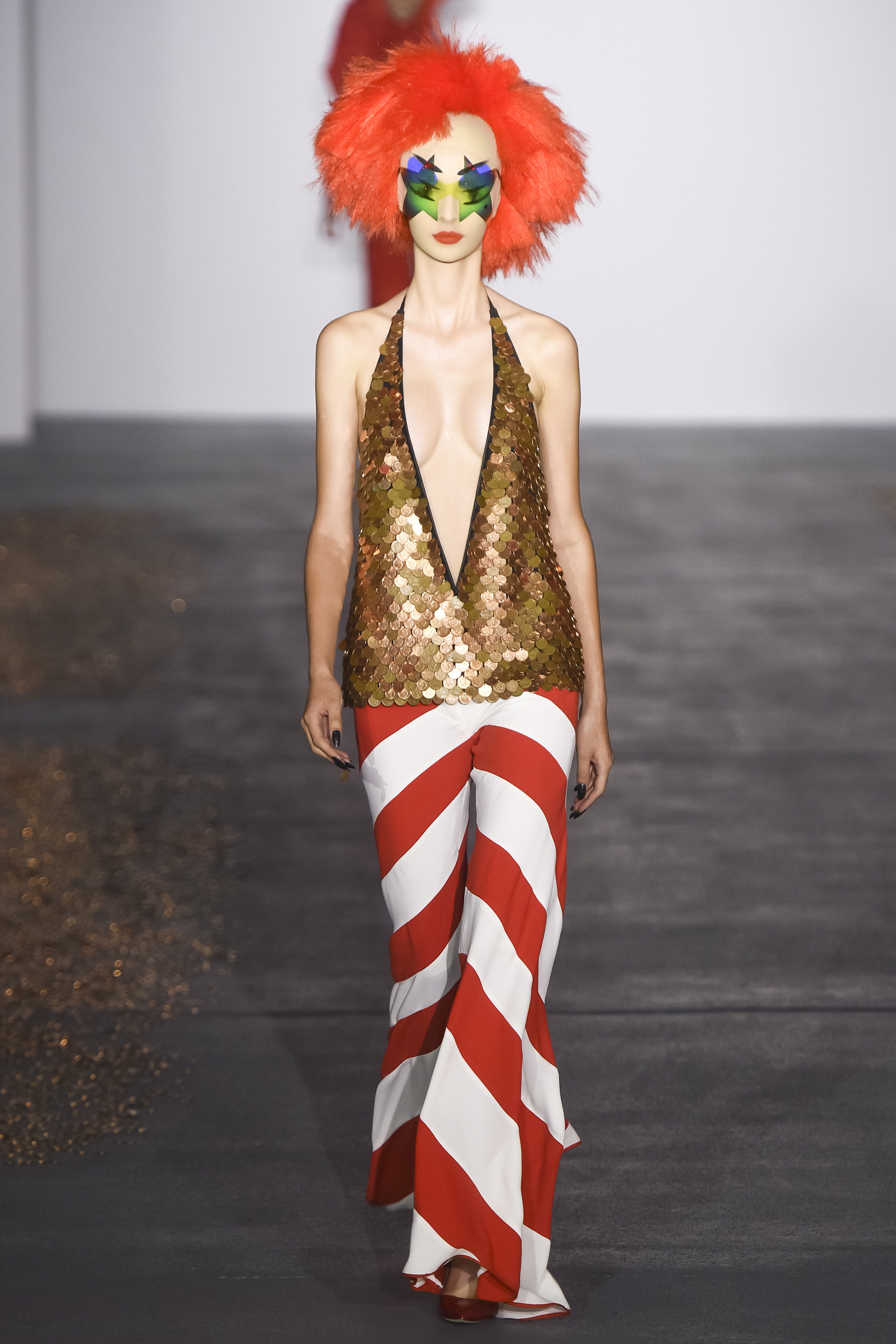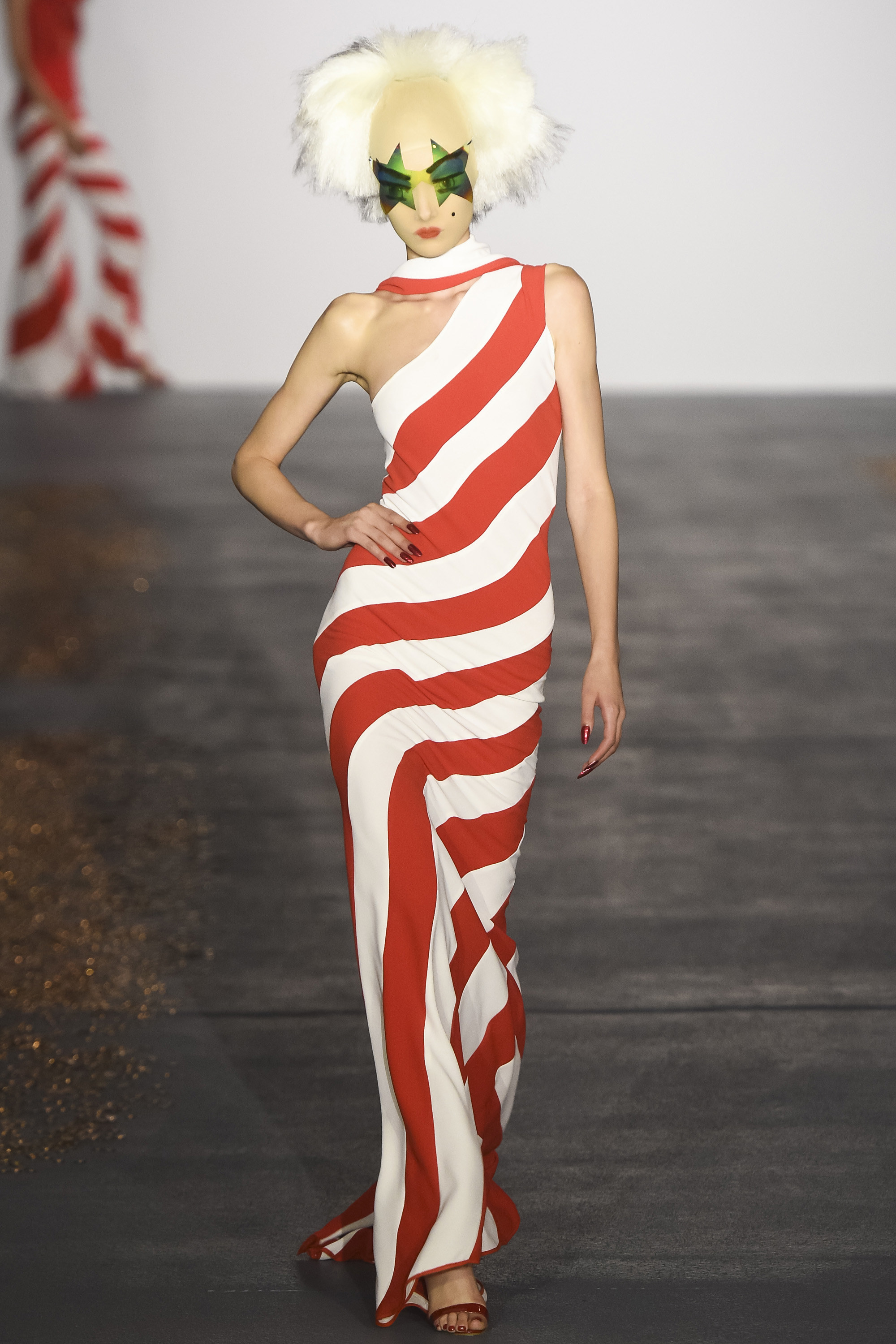 These looks conjure up visons of summer at some beachside resort in an Agatha Christie novel.....sigh.....get out the big hat.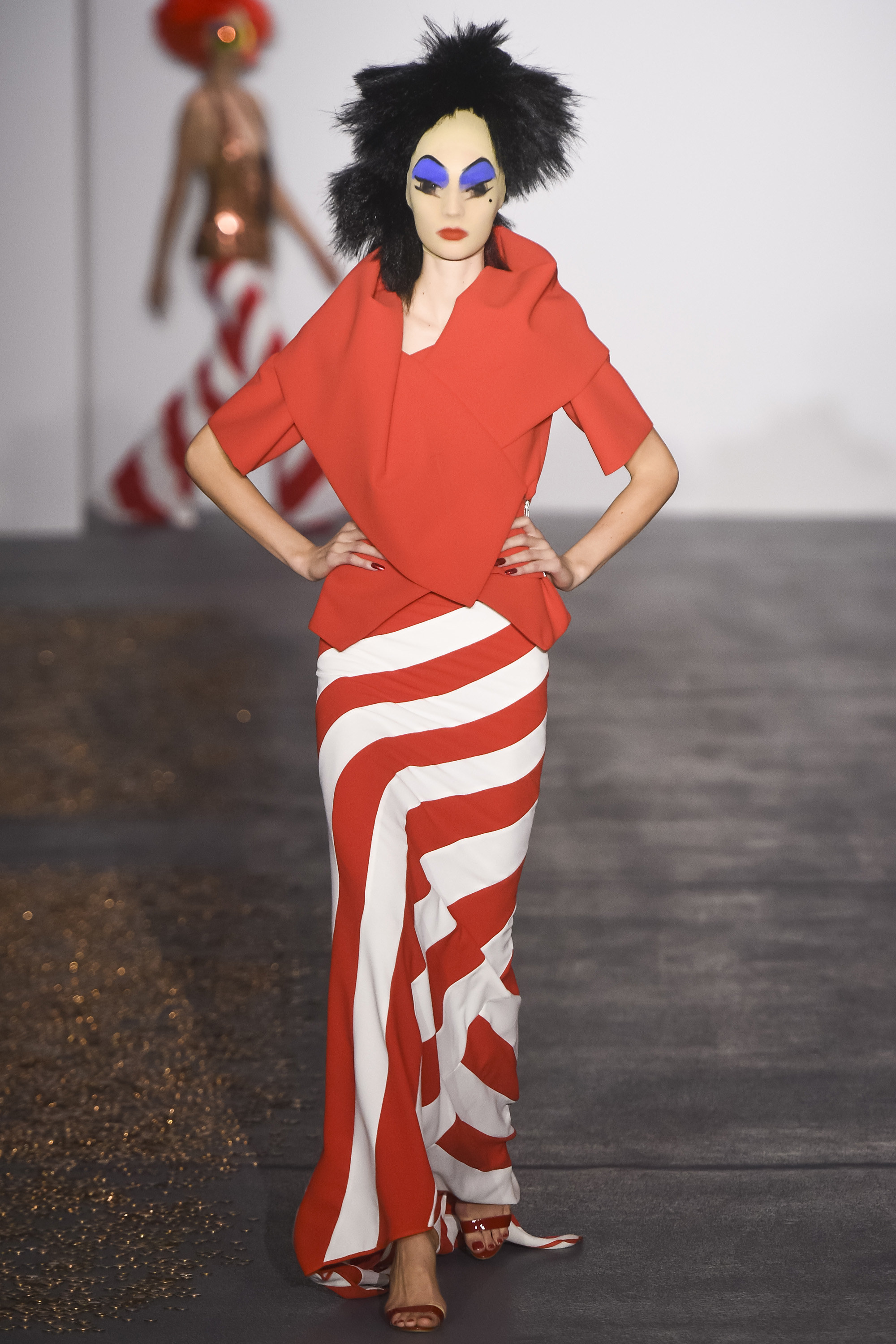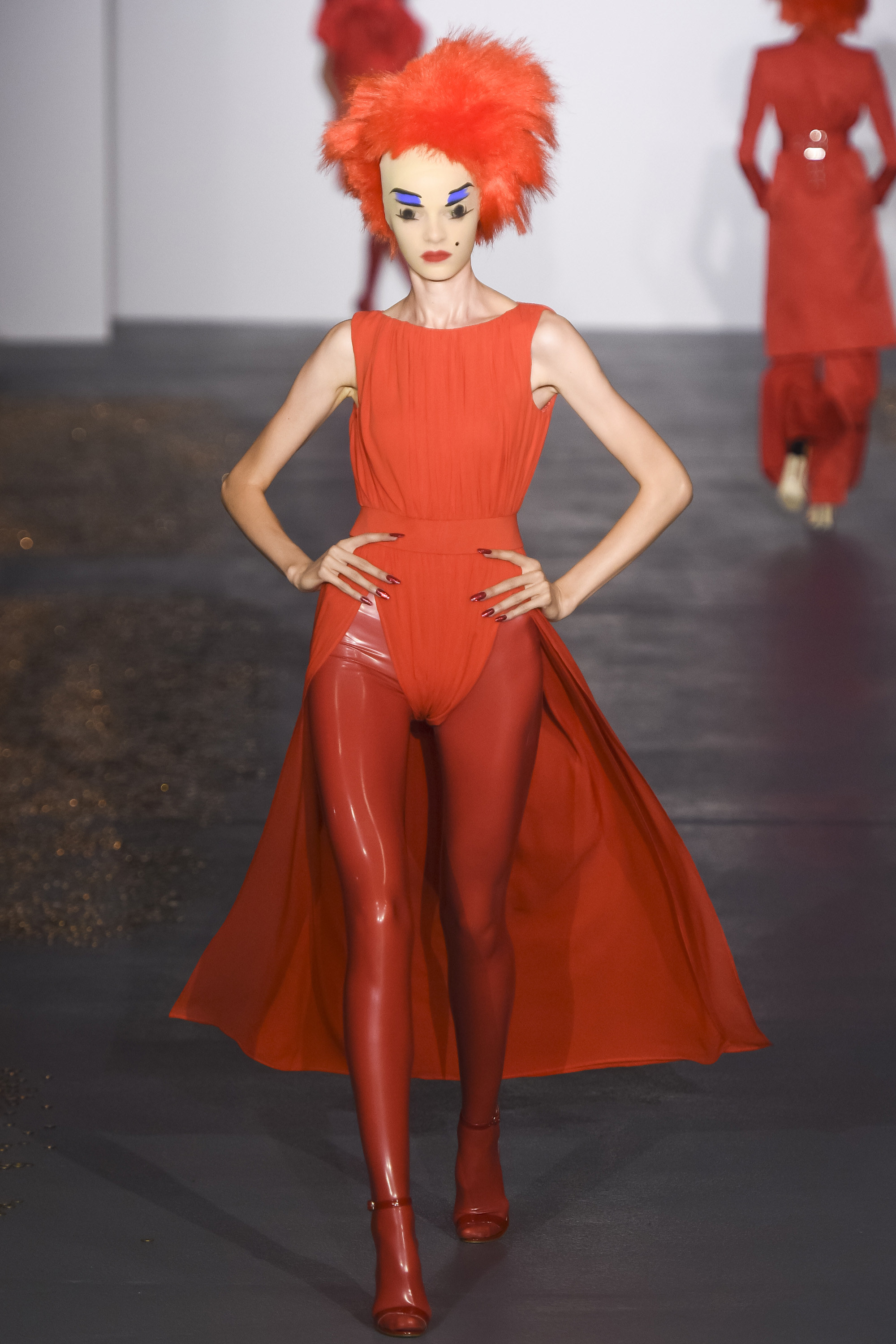 Another supremely entertaining runway performance rife with theatricality, but filled with striking wearable separates and ensembles. My personal favorite? The black satin trench festooned randomly with red paillettes akin to disco raindrops.
More from LONDON FASHION WEEK to come….
Cheerio!
Runway images brought to you by www.vogue.com