For me the holy grail of fashion is comfy stylish clothing that can be worn to work and on the weekends. Pieces that can be thrown on without a man servant in tow, or that won't rip or strangle you as you pull it over your head, which won't come apart when a Dog jumps on you, and more importantly, which you feel at ease in when tossing back buttered up popcorn in a dark theatre without the usual concern about stains. You want to stand out in a casual way, make a statement and look pulled together without having to strain your synapses or your pocketbook. For SF weather, that usually means pieces that can be layered. If I had to pick ONE piece, it would be a shearling vest or coat, in pretty much any color. For the more timid, probably best to stick with the neutrals, black, gray, cream, navy, and one of my favorites, TAUPE. A jacket is always a safe bet, confers appropriate azz coverage, can be thrown over jeans, leggings, skirts, sweatpants, and no matter what the silhouette, if well made will last forever. With a smashing jacket, no one notices whats underneath. Who cares? I say, splurge on the jacket or coat, and throw it over a T shirt and skinny jeans. Then worry about the footwear. Think Dries, Jil Sander, Marni, Michael Kors, and for the AMAZING shearlings, Valentino (although $$$$$). Good options for stylish wearables are military or puffer jackets, or maybe one of the many BIG sweaters cruising the runways, in combinations of woolens, cashmere, alpaca and mohair. Black is everywhere, but color is also big on the runway for some welcome variation.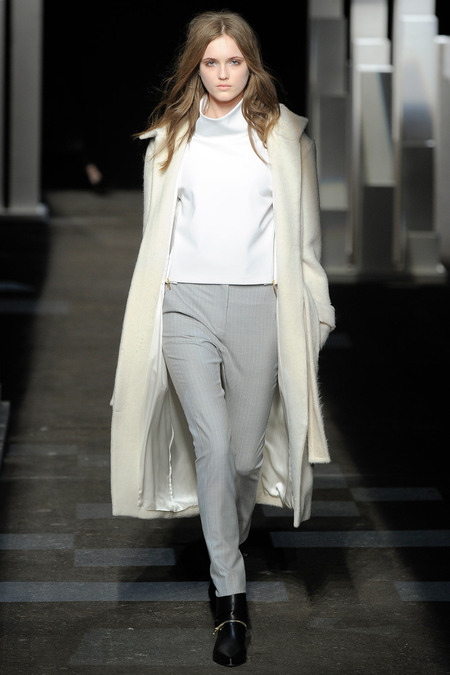 ICB
I really adore this whole outfit. Easy, minimalist but a bit sexy with the cigarette pants. Very Caroline Bessette Kennedy. You can always add a bit of drama with a red or purple cashmere scarf by Loro Piana OR a sequin adorned variety by Cucinelli!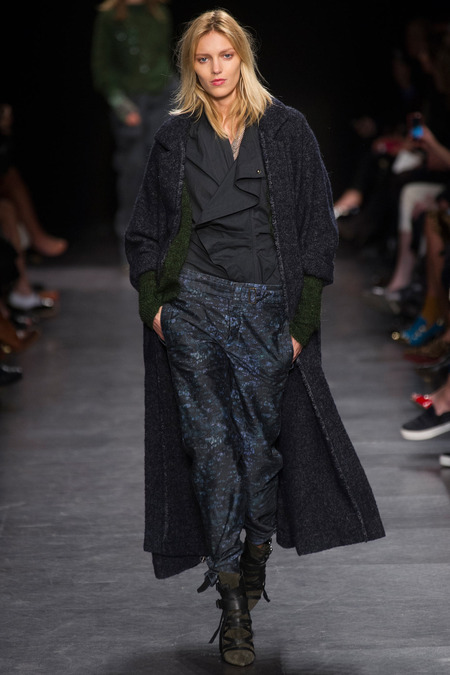 ISABEL MARANT
Again, love the whole ensemble, but the sweater coat is a great staple piece to be worn with a busy outfit such as this or alone over jeans and any version of boots.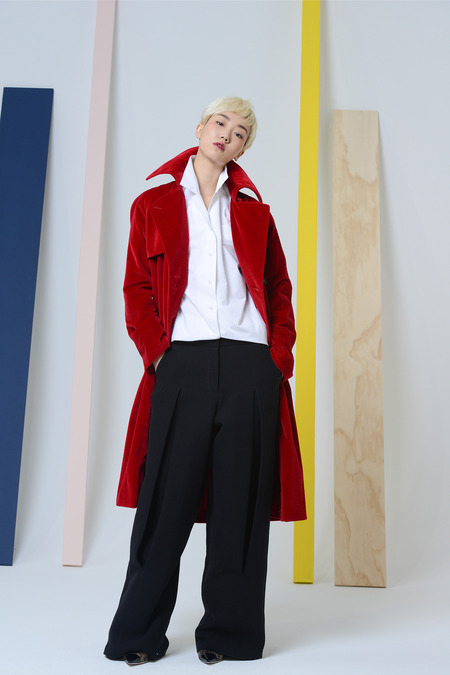 ROSIE ASSOULIN
My FAVORITE of the lot. RED + VELVET + TRENCH, right answer. Red isn't for everyone, and it will bring attention from anyone not color blind, but this is just so easy and yet lux because of the fabrication. Belt it, don't belt it, wear it over anything, a mini skirt and boots, or heels and a suit. Great for the casual weekend get away or to the office.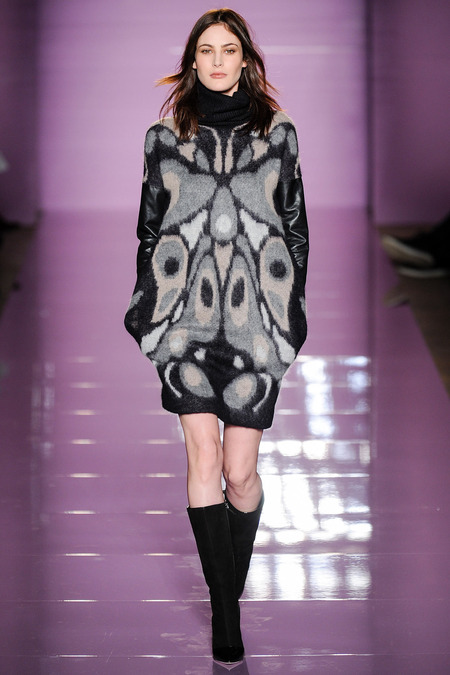 LES COPAINS
THE BIG SWEATER IS BACK with a vengeance! Yay! Now I can revisit all my big Laura Ashley sweaters. You wait 20 years, everything comes back into vogue. Butterflies and forrest creatures are also HUGE for pre fall and for fall winter. Two birds one stone......if you'll pardon the obnoxious metaphor.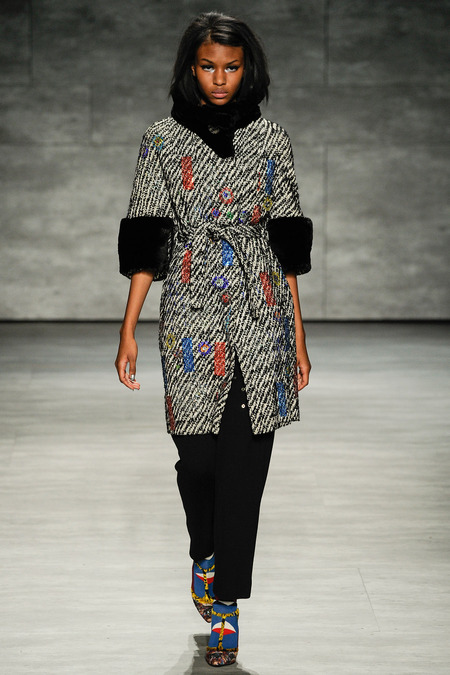 LIBERTINE
Ok, no post can go by without an entry from Libertine fall winter runway. I'm in love with all of it. And although many of the pieces are in some way bedazzled with rhinestones and other finery, they still have a casual vibe. This coat goes over everything. How about velvet Charlotte Olympia flats and skinny jeans, or what the hell, CLOGS!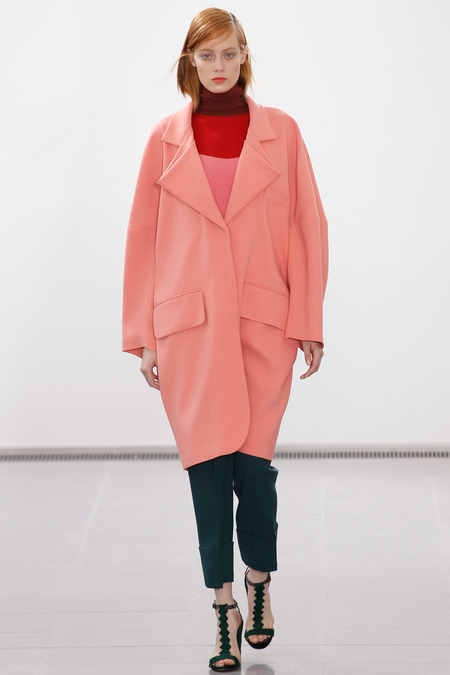 ISSA
This collection had so many wonderful casual and whimsical but lux pieces, great weekend fare. And this coral peachy color is so sweet and inviting! Ditch the sandals and put some substantial shoes on. Platforms anyone?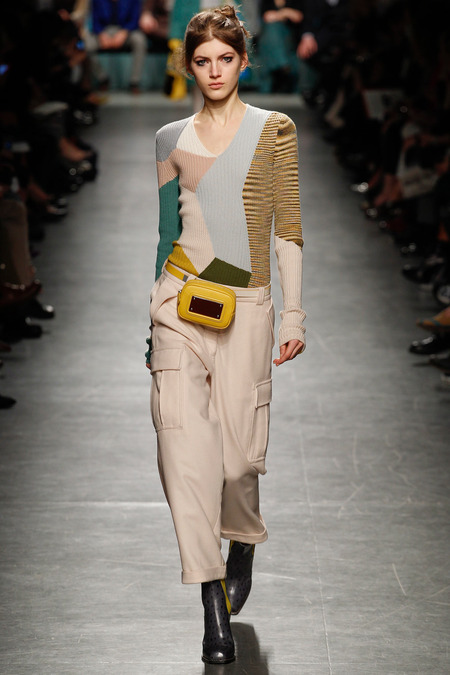 MISSONI
Into everyone's life some cargo pants need to fall. (Now if I could only conjur up a dude in some cargo pants, yowsa!). Wear with a shearling bomber, yeah, it may be an ovious choice, but still hot, comfy and cosy.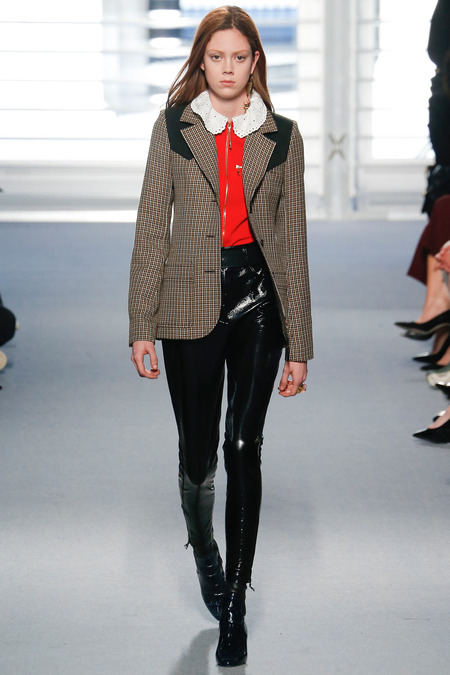 LOUIS VUITTON
The new Louis Vuitton under the helm of Nicholas Ghesquiere is all about wearable but in a lux mod way. A few days ago I saw some of the new fall runway pieces, looking good. There will be choices for everyone, at relatively reasonable price points. This version of a riding jacket is a well made staple piece. Hell, wear over the cargo pants!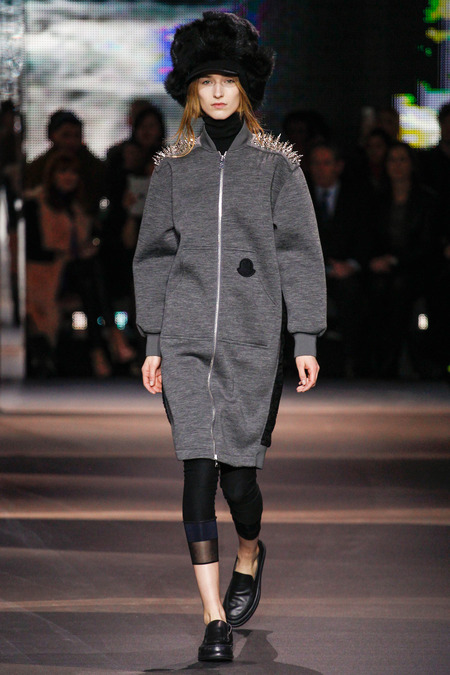 MONCLER GAMME ROUGE
This is just so freakin' fabulous! I'm thinking this would be good to tool around town in on a crisp fall day. Wear it on a date with a dude who has a sense of humor. Just tell him not to get too close if he wants to keep his eyeballs intact. Heh.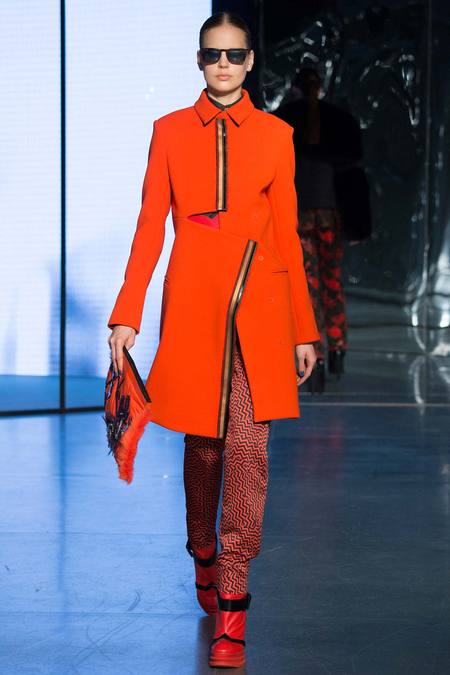 KENZO
Again with the red, but this is easy and matrix cool. White T-shirt, jeans, black boots, done.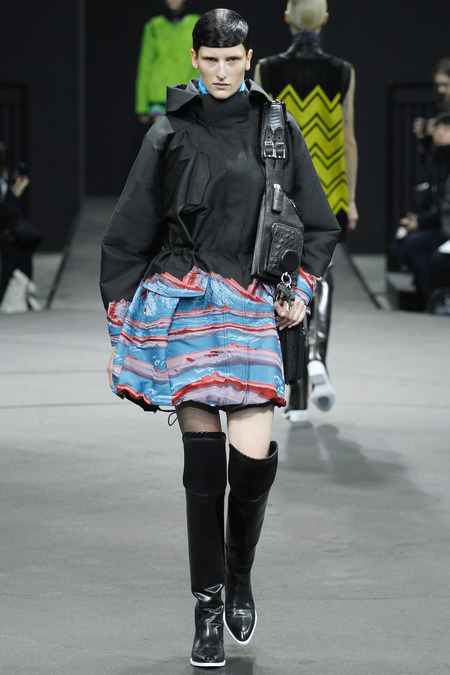 ALEXANDER WANG
Good for the misty days, roomy enough for layering over a big sweater.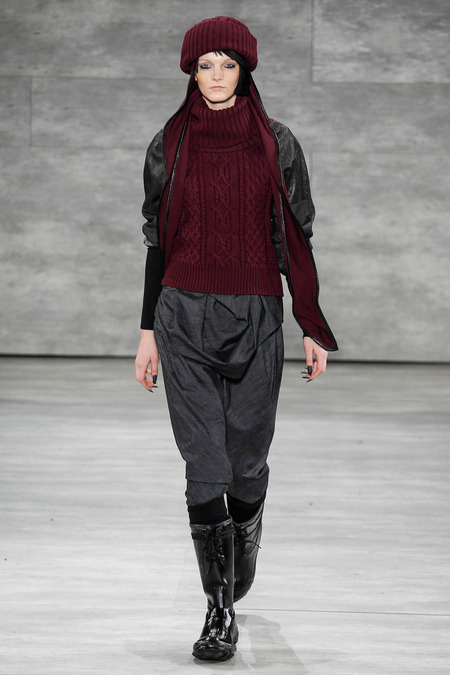 NICHOLAS K
Comfy lux cableknit in a sumptuous claret color AND big turtleneck. Would look spectacular under all the jackets and coats in this post, including the red velvet. Love these wacky charcoal pants as well...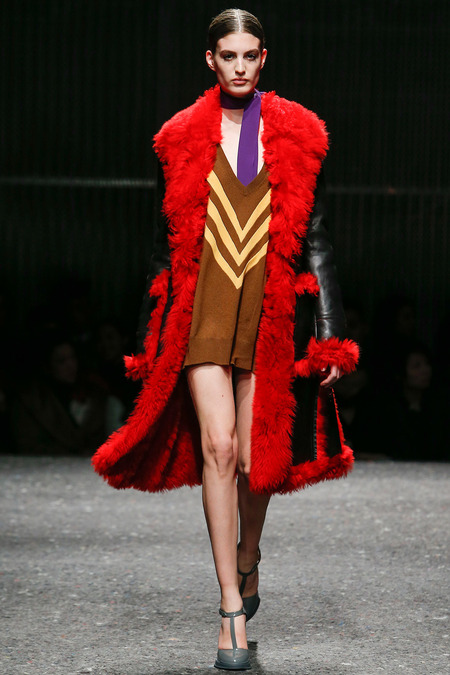 PRADA
Zowie! Big and bold with just enough RED to be striking but not quite clown like. You probably wouldn't want to get buttered popcorn all over this, however given the substantial black contingent, not too many tears need be shed just in case....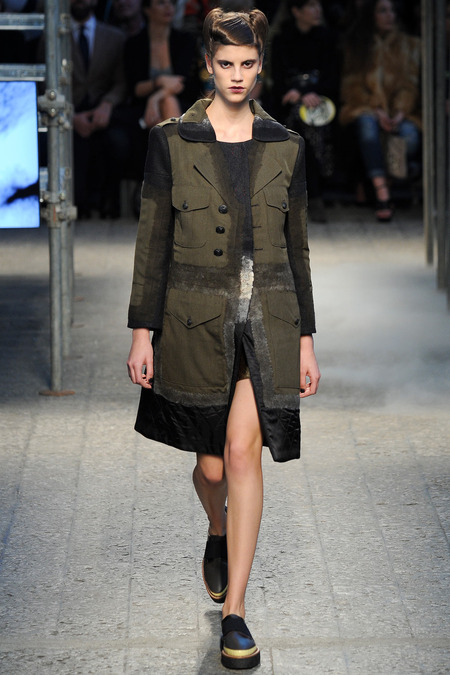 ANTONIO MARRAS
Mod military with chic patchwork element. Needs a big red scarf. This whole collection was stellar. By the man who brought the Wolf to the runway.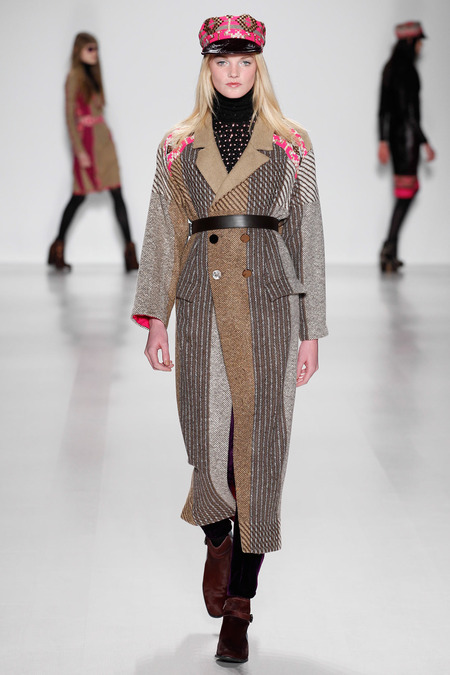 CUSTO BARCELONA
Neutrals with a subtle pop of fuschia! I dare you to wear the hat!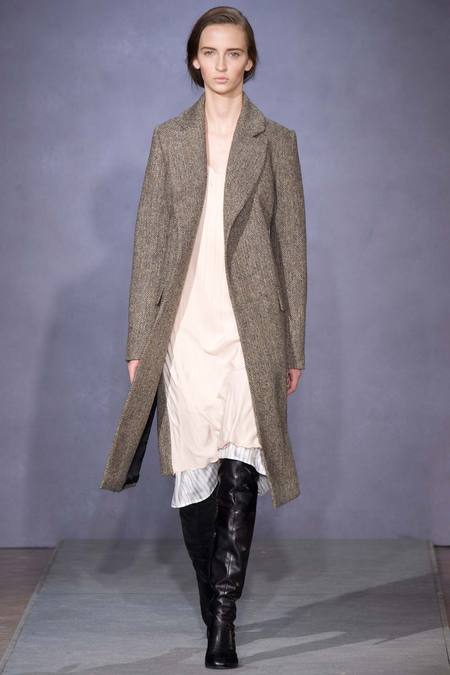 MAISON MARTIN MARGIELA
A menswear inspired piece in an easy feminine silhouette is always welcome and chic. Think of this over jeans or a diaphanous or gauzy dress by Ralph Lauren or Chanel WITH boots.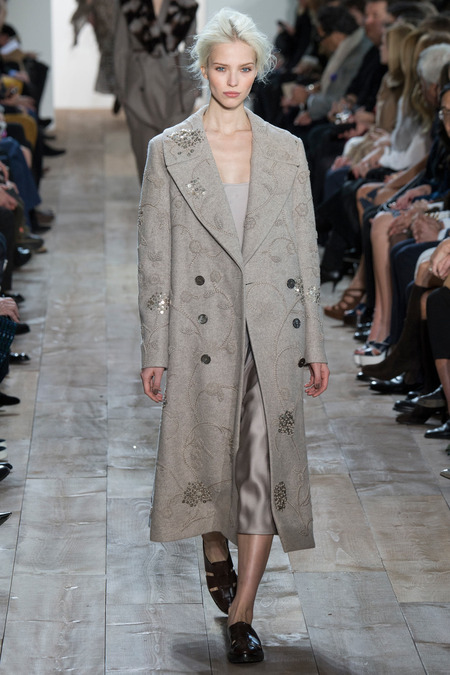 MICHAEL KORS
D R O O L. Easy welcoming silhouette in a wheaty taupe with sequin embellishment and embroidery. Like the Stella McCartney coat from fall winter, this beautiful piece would be perfect during the holidays. Festive but not fussy.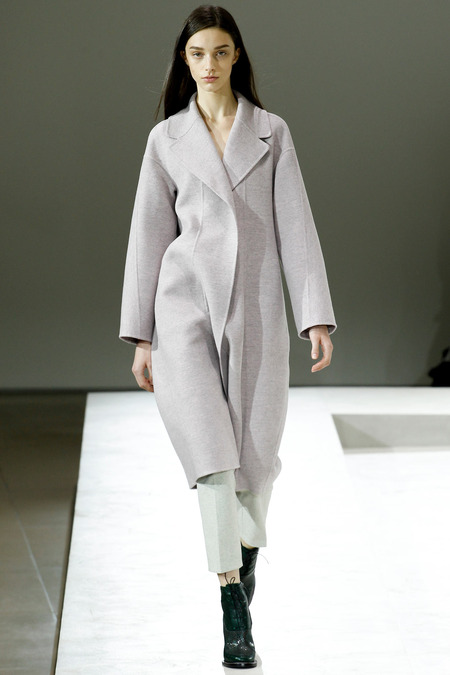 JIL SANDER
If in doubt for casual lux, go straight to Jil Sander. The narrow chest leaves room to throw on a VEST!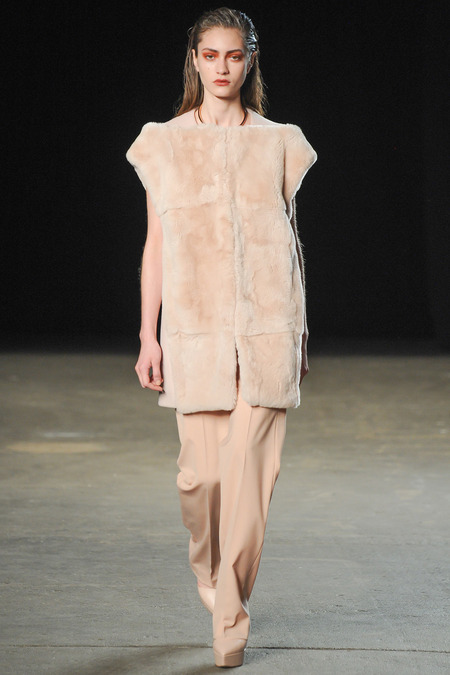 PHILOSOPHY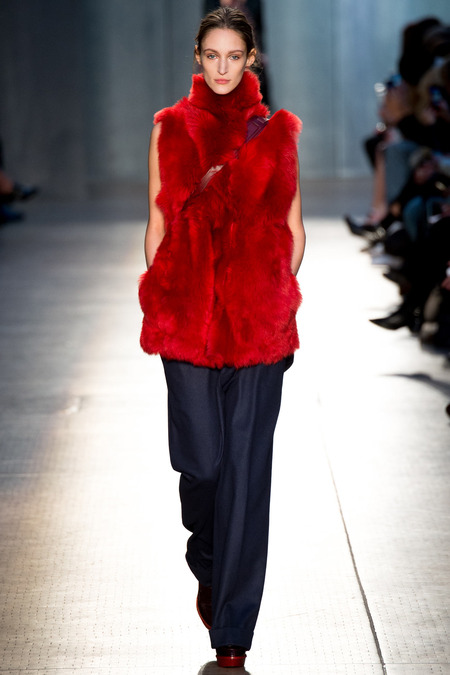 PAUL SMITH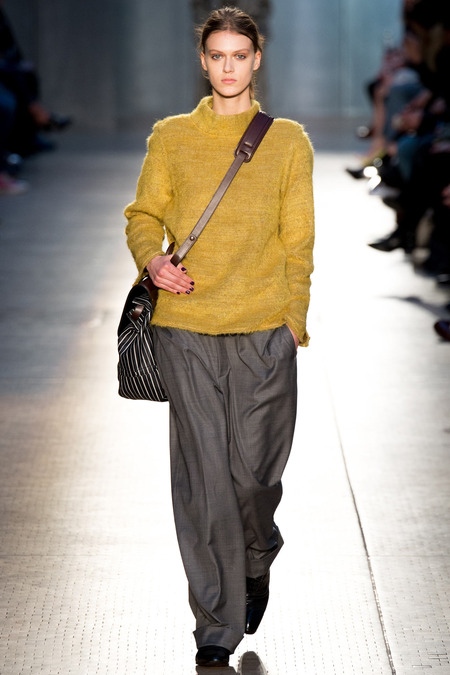 PAUL SMITH
Apparently "curry" is the new black. Fine with me. Would go well with all varieties of green, blue, and red!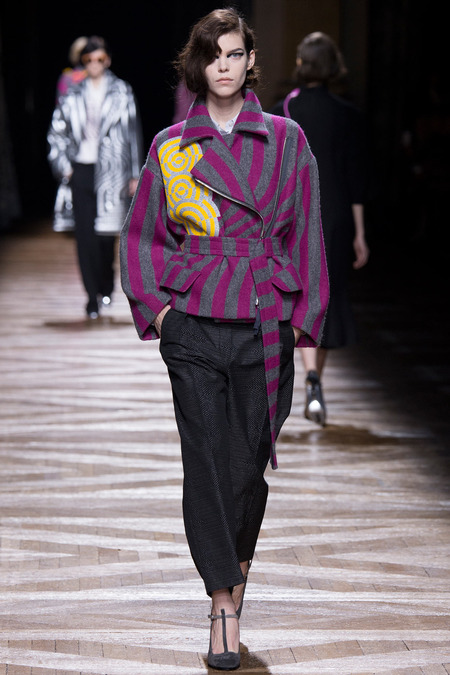 DRIES VAN NOTEN
No wonder I'm perpetually entranced by all things Dries. How can you not just love the mix of patterns and colors? And there are always a range of coats and jackets for every occasion in his runway shows, including a contingent of stylish pieces which will compensate for the occasional burrito binges. God bless as they say.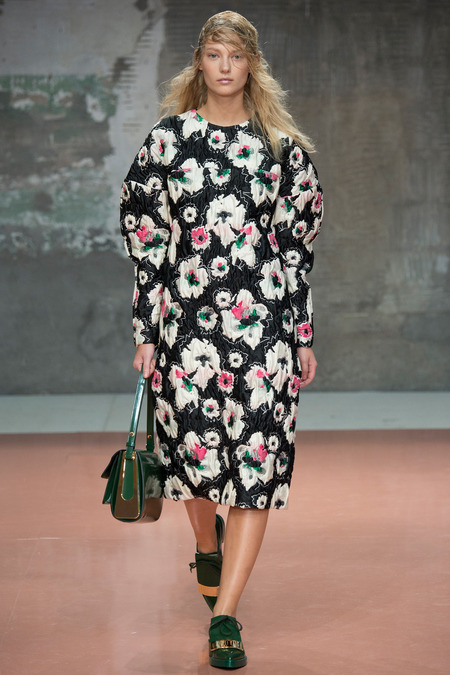 MARNI
Marni can always be counted to provide comfy interesting silhouettes in a wide color palette and a variety of natural and techno fabrics. This piece would work throughout the year in a temperate climate. Throw under a slouchy coat for fall.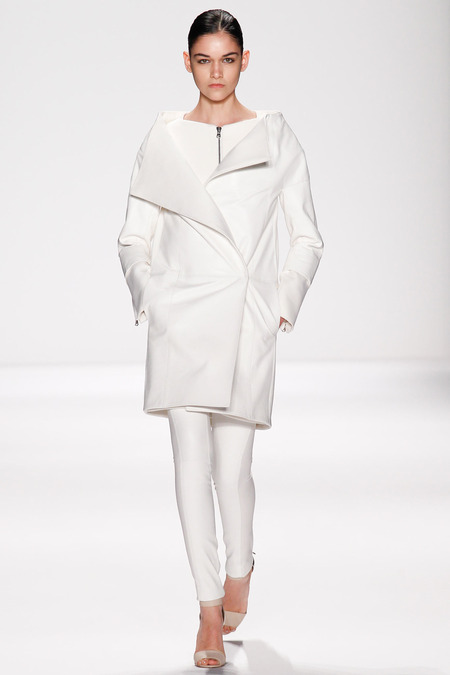 KAUFMAN FRANCO
If you have the guts to do a version of white, this is clean and mod. Amazing how folks come out of the wordwork waving ballpoint pens around when you're wearing something like this. Stay away from Spaghetti dinners. And for God's sakes, no white on white....zzzzzz.....wear over stretchy black leather leggings and shoe booties with a chunky heel.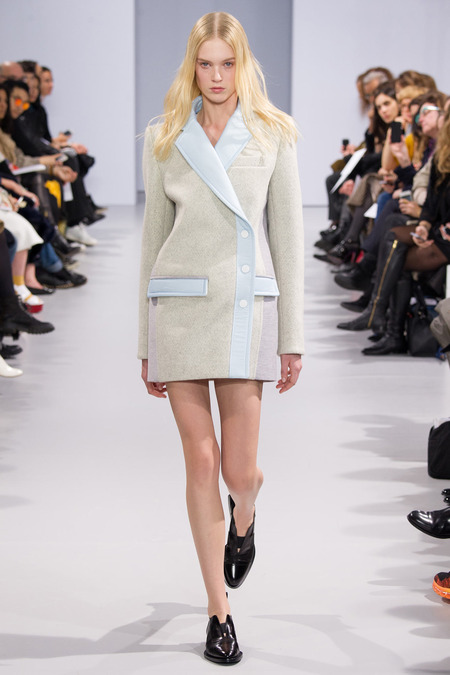 PACO RABANNE
Edgy but still sweet with the pastel tones.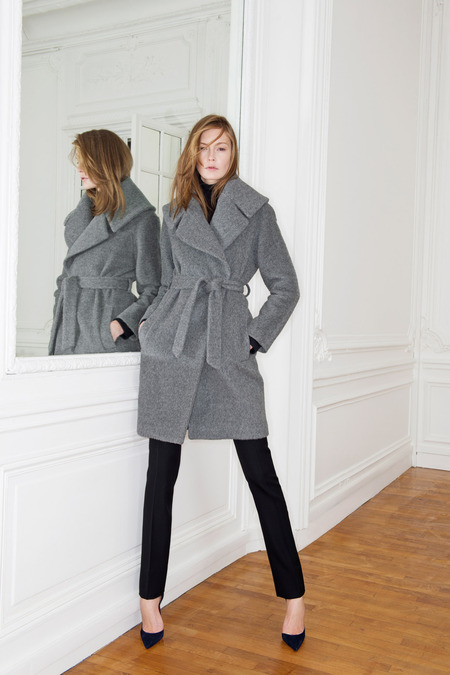 MARTIN GRANT
Nice option, the shorter length is easier to negotiate getting in and out of the car.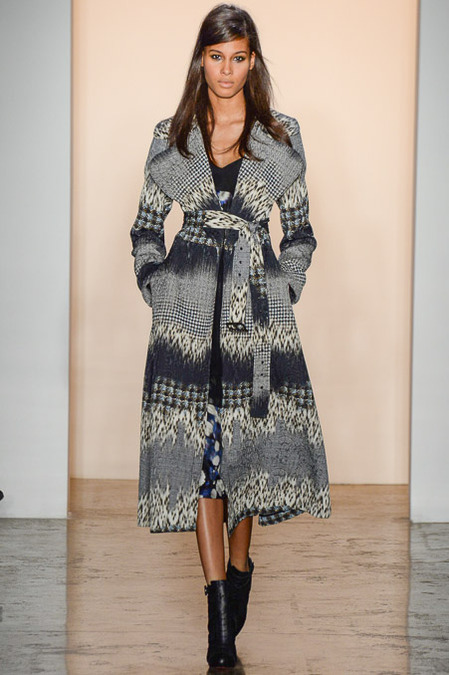 PETER SOM
Love that big bold collar and wild print. Wear the belt like a sash in the empire position, its more flattering and more comfortable than slung around the waist as per usual.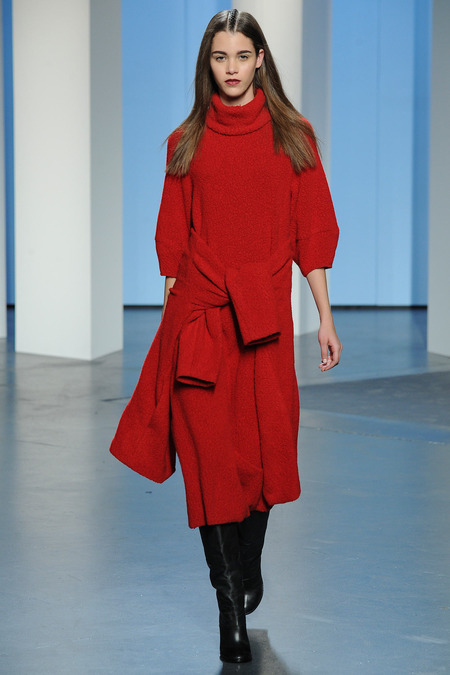 TIBI
Oooh, like wearing your pjs around town. Yummy.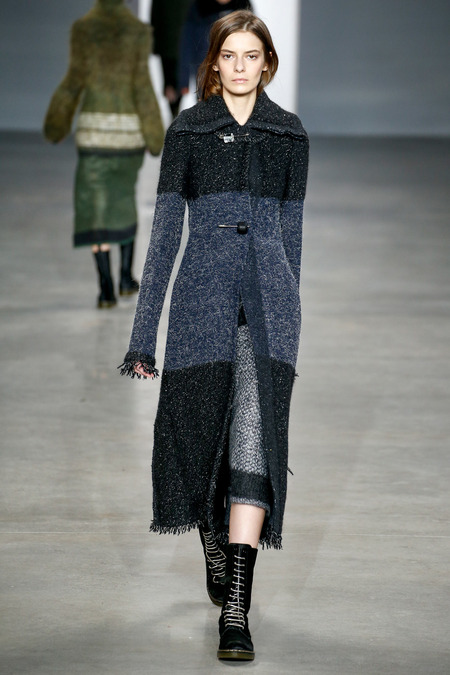 CALVIN KLEIN
This was another fabulous runway collection when it came to pieces with a fall-in-the-east-coast vibe, flattering silhouettes in warm inviting fabrics. You can imagine the leaves changing colors.......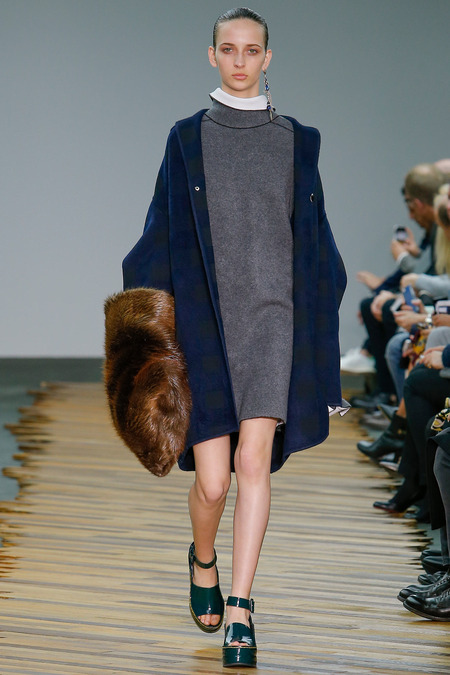 CELINE
Nice mix of neutrals. Definitely to be worm with black boots, patent would be fetching.
JC DE CASTELBAJAC
The wide belt isn't for everyone, thank goodness. Get one with the spikes, ala Carrie Bradshaw in the first Sex and the City movie. Bring it out occasionally for the visual interest. For most of the year leave it in the closet with the whips and chains. (Great take on a puffer by the way, with unusal pattern and color mix).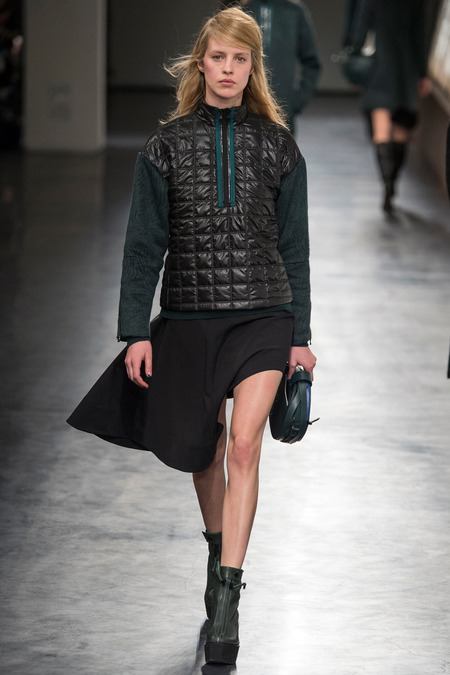 OPENING CEREMONY
Non bulky puffer variant. When you don't want to be completely shrouded in down.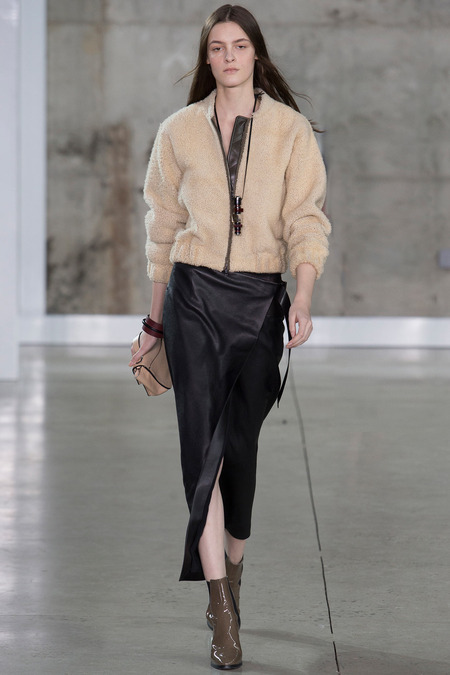 REED KRAKOFF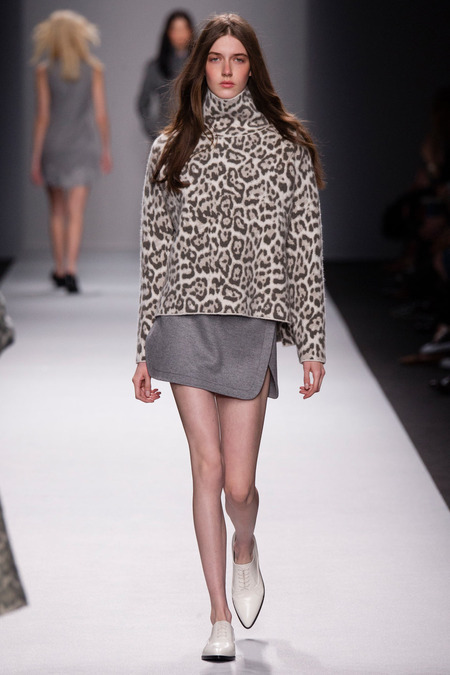 VANESSA BRUNO
A little shearling and leopard can go a long way.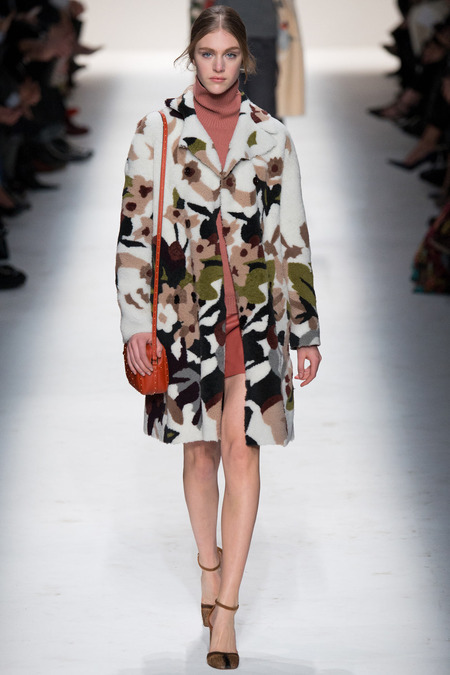 VALENTINO
What is it the young folks say these days? Oh yeah, I D I E!!!!!!!! If you have a few shekels stashed in a matress somewhere, grab this beauty and don't look back. You will adore it forever.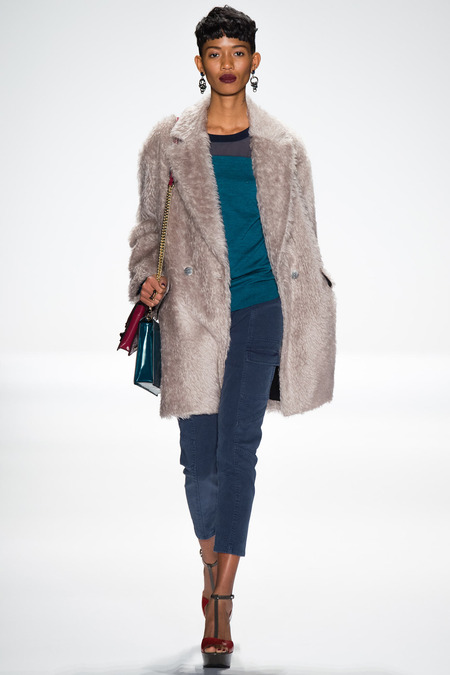 REBECCA MINKOFF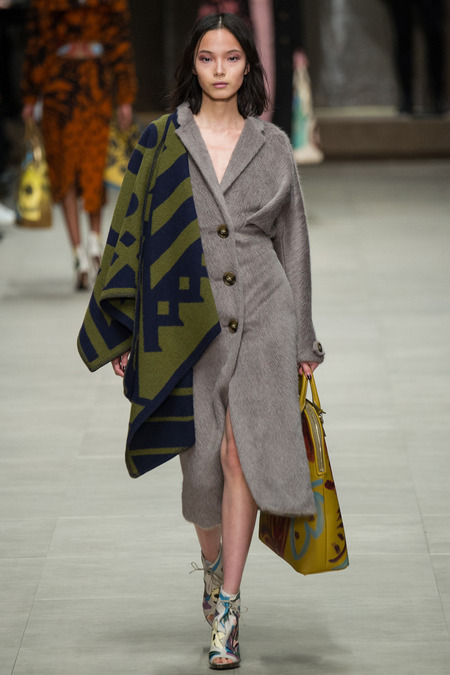 BURBERRY PRORSUM
Taupe alpaca, always a marvelous option you rarely see on the streets.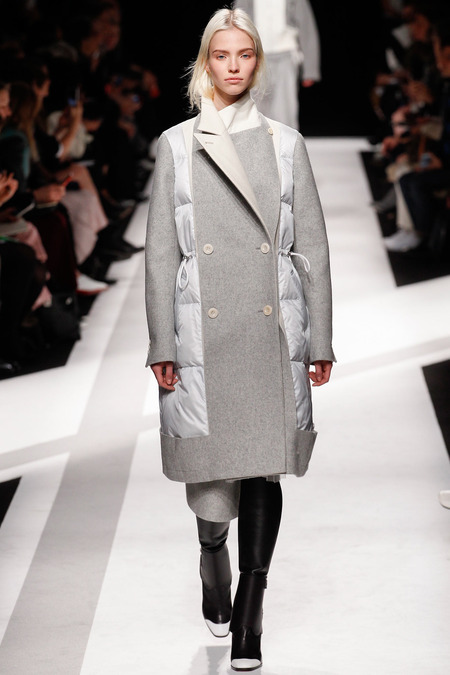 SACAI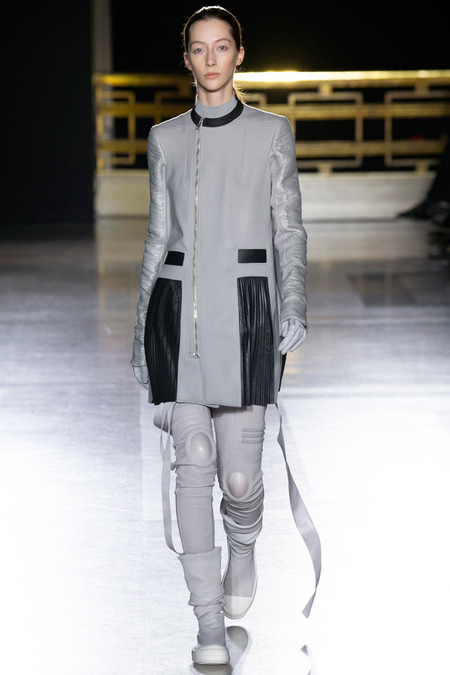 RICK OWENS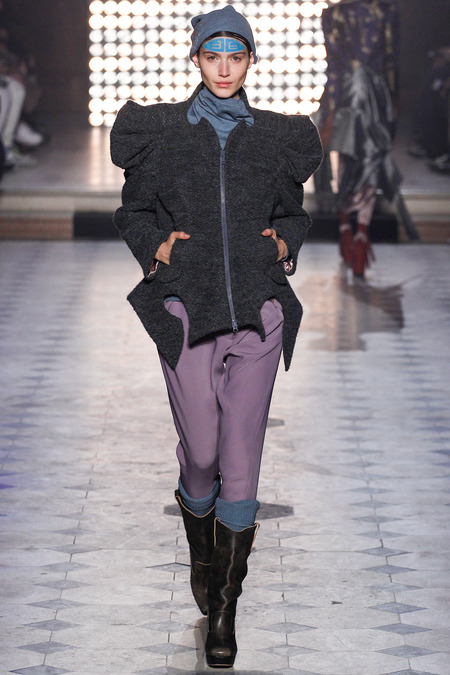 VIVIENNE WESTWOOD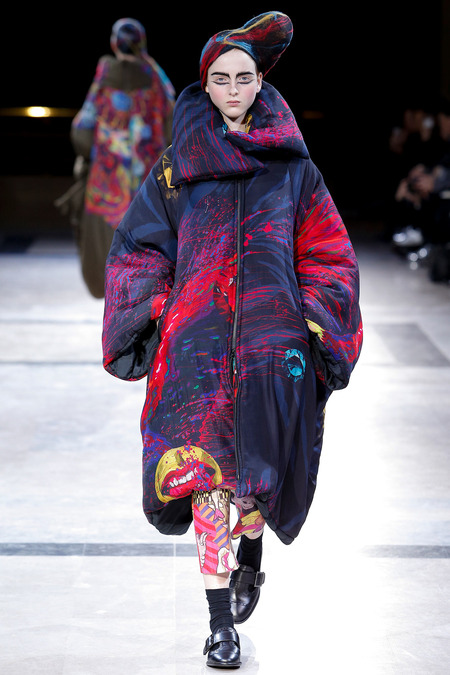 YOHJI YAMAMOTO
I can't help myself, I LOVE the Japanese ethos. The avante garde elements, the bright vibrant colors and wacky shapes. The last few looks illustrate that you don't have to stay entrenched in the black banal schmatta mode to stay comfortable and content. GO BOLD. Why not?
Images care of www.style.com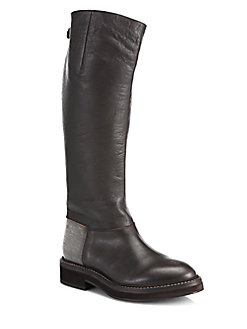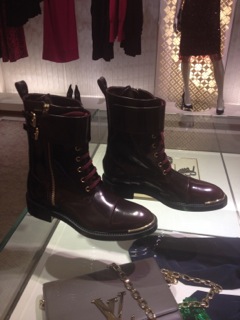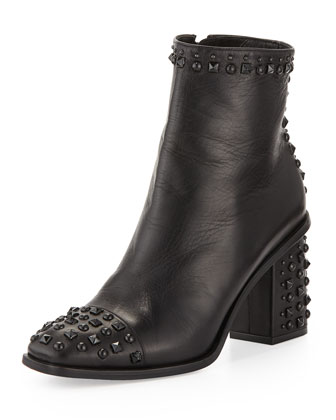 Some covetable boot options from Brunello Cucinelli (Saks Fifth Avenue), Louis Vuitton, and Alexander McQueen (Neiman Marcus).
Cheers!