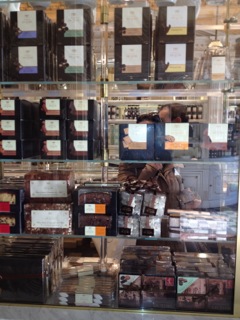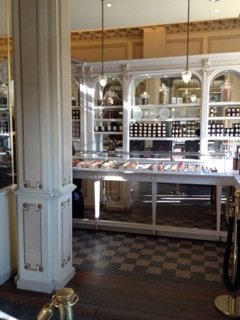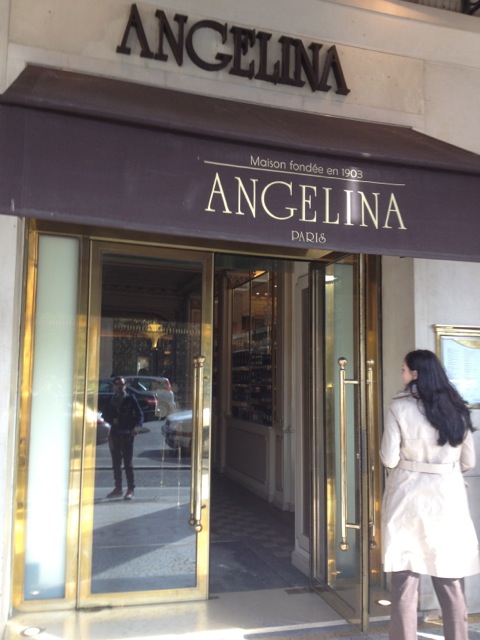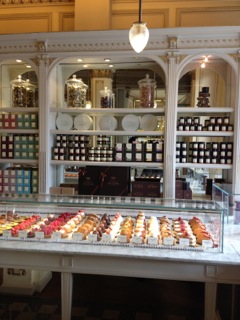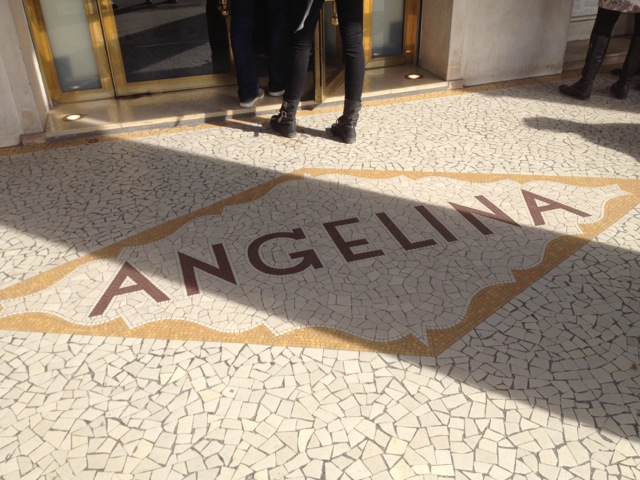 I first stepped foot in Paris in the winter of 2000. Since then I've bumbled around the city several times, doing the usual, window shopping, eating, spending endless hours in the Louvre. But not until October of 2012 did I first make contact with my MOST FAVORITE eatery on the planet, thanks to a heads up from my good friend Maria. A stone's throw from the Louvre and only yards away from Le Meurice hotel on Rue de Rivoli is a bit of heaven on earth, Angelina.
After checking into the The Crillon Hotel (along the Place de la Concorde) and throwing on my favorite Chanel dress, my friend Eric and I decided to take a stroll down one of the main drags in Paris, Rue Rivoli, a corridor of kitschy and high end retail shops and marvelous hotels, bordering the Jardin de Tuileries and the Louvre.
My Father, may he RIP, always maintained that the favorite endeavor of humans is to eat. And of course not just the culinary aspect, but the social one also. And I believe that he was correct about pretty much everything including this. What could be more fun than sitting in this cozy venue where Coco Chanel came every day, being with good friends indulging in the most mouth watering fare?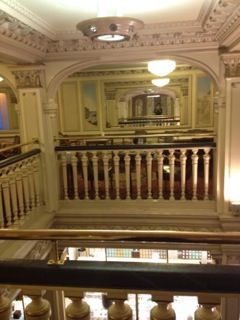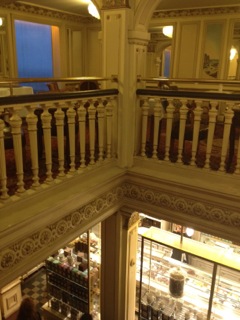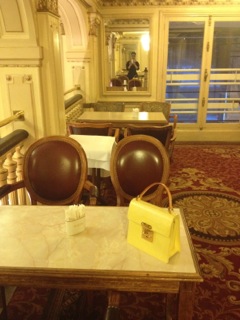 The view from upstairs.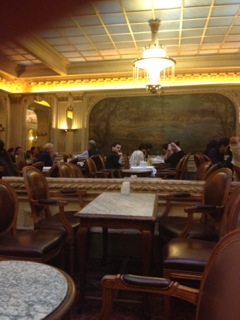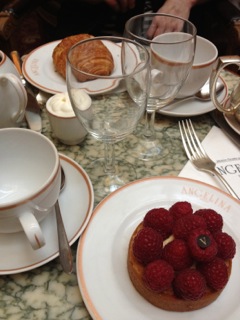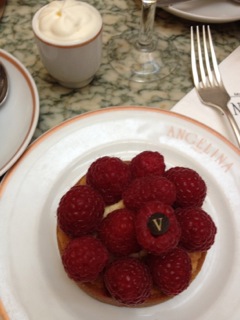 As you indulge in these beauteous treats, you are at the same time transported back to the era of belle-epoque. The marble tables, the mirrors which allow you surveil the comings and goings of all varieties of Parisians, tourists and celebrities, the art nouveau lamps.......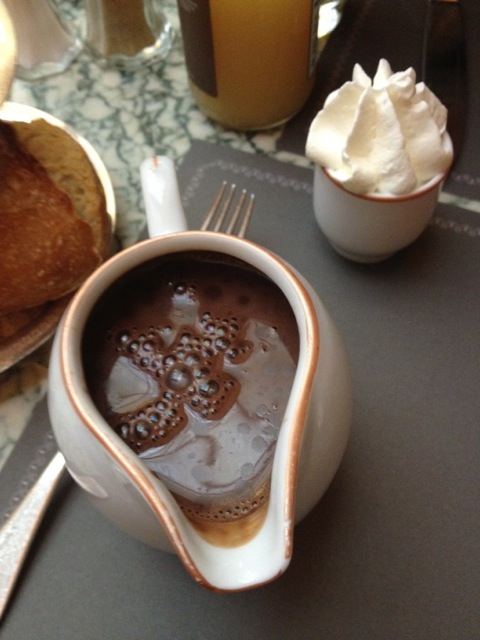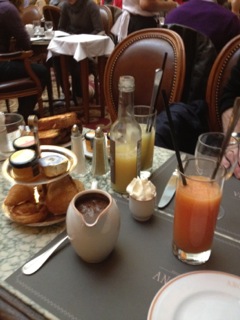 This is not the time to be counting calories, which is a tiresome pastime anyway. This is the time to indulge in every whim. The "hot chocolate" is worth a trip to Paris I kid you not. I still dream about this marvel. Its as if five bars of solid chocolate have been melted into this little pitcher, molten chocolate if you will. And you top it off with a big dollop of fresh whipped cream. I do believe my eyes rolled back in my head as I was drinking this concoction. A perfect moment. And as an adjunct, I had the raspberry tart. Yeah baby, I went WHOLE HOG! Luckily the dress I was wearing to the Chanel runway show the next morning was not form fitting. Life is too short and unpredicatable, so when you have the chance at a moment of pure pleasure, TAKE IT.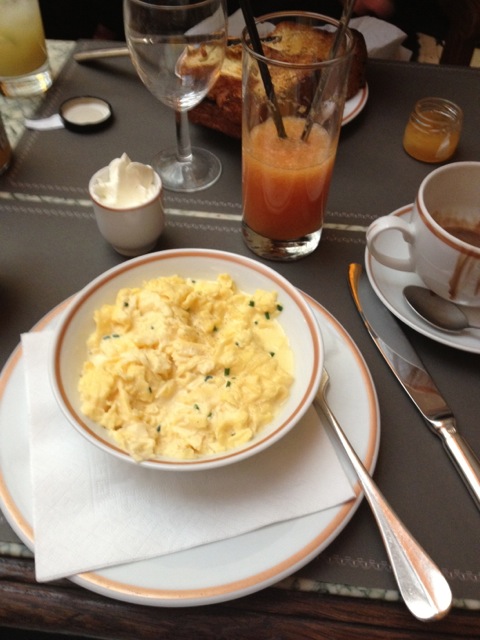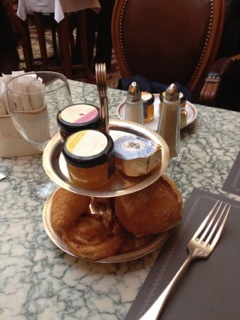 Eric and I came here several times during this trip and a subsequent trip the following Febuary and found that the savory selections were quite scrumptious in their own right. This charming place is entertaining from a people and Hound watching perspective as well. You gotta love a place where the wee Dogs are also welcome!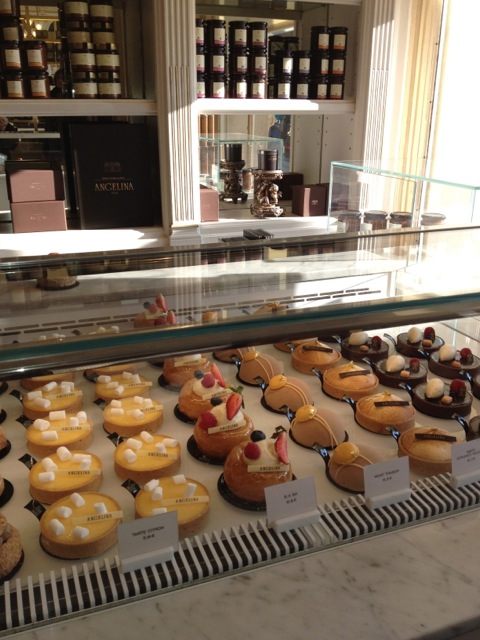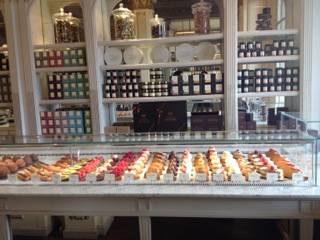 Everything is M O U T H W A T E R I N G!
Be ready to stand in line, especially on the weekends, but hang in there because its surely worth the wait.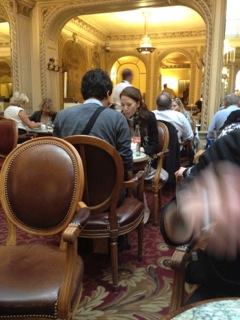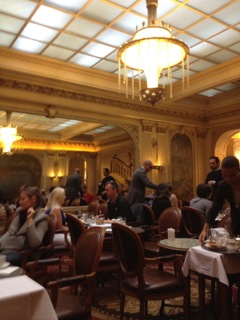 I've had such happy times in this tea shop eaterie it has become a necessary part of sojourns to my favorite city. This is the perfect place to connect with friends, a respite from shopping and museum gazing, a metaphorical trip back to childhood where all senses can be engaged. Come by yourself, with a friend, a lover.......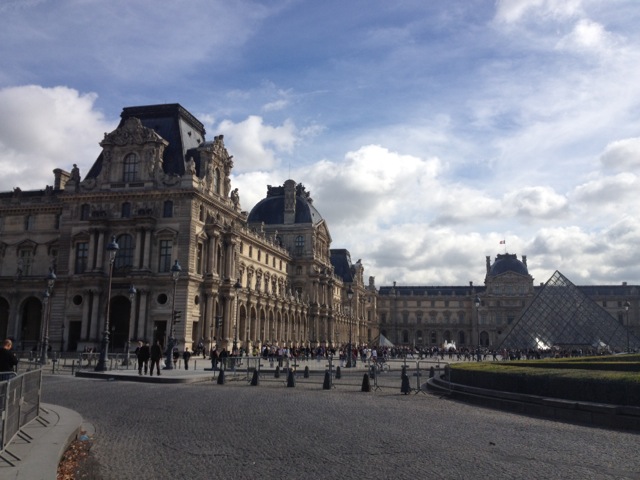 Once you are done indulging in chocolate, tarts, croissants, and fine savory selections, you are mere yards from the premiere museum in the world. You can ahem, walk off your calories in another feast for the senses.
Happy Birthday Gabrielle Bonheur Chanel.
Dedicated to my dear friend Eric Antos who inspired the title.